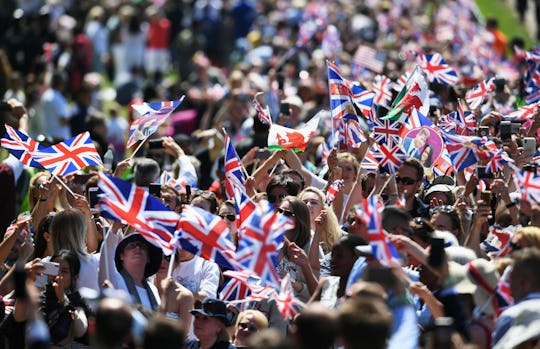 Jeff J Mitchell/Getty Images Entertainment/Getty Images
The Number Of Royal Wedding Attendees Is Limited, But Don't Worry, Oprah Is There
Anyone who scored an invite to the royal wedding is (subjectively) a part of the luckiest group of people on the world. Not just anyone could be invited to one of the biggest events of the year — the wedding between American actress Meghan Markle and Britain's Prince Harry. Instead, a select (and top secret) group of people were chosen to attend the ceremony. Because of this, some might be wondering how many people are invited to the royal wedding and are able to witness the history making nuptials in person (and not on TV like everyone else at home).
An invitation to royal wedding isn't necessarily one that guests want to decline. To put it lightly, being invited to the royal wedding is like being told you can sit with the cool kids at the lunch table — everyone suddenly is paying attention to who you are because you've made the cut — and not everyone gets to sit with the "cool kids."
Only 600 people were invited to the royal wedding ceremony held at St. George's Chapel at Windsor Castle and luncheon afterwards, according to the Telegraph. An even smaller pool of 200 people got the pleasure of being invited to a smaller reception at the Frogmore House in Windsor Home Park, according to the Telegraph.
But it is unclear if any of these 600 people declined their invitation or passed up the opportunity to attend so someone else could go instead (although people would be silly to not go to such an important event). Nobody knows this because the guest list for the royal wedding was top secret until guests started arriving to the reception, according to TIME, to likely protect their privacy.
But Kensington Palace did reveal that the wedding would exclude an "official list of political leaders" and foreign officials, according to TIME, due to the fact that Prince Harry's wedding is just a little more low key and a private event for the royal family, according to CNN, not a state event. Of course, people expected Prince Harry and Markle's family members to be invited (and attend), according to CNN, but royal watchers also expected some familiar celebrities — like Markle's former Suits co-stars, according to CBS News — to attend the wedding. Because a wedding wouldn't be a wedding without some friends and fun thrown in the mix (just family members would be a little boring).
While 600 guests might seem a little larger than the average wedding, it is quite small in grand scheme of things. St. George's Chapel, according to People, actually has a capacity of 800 guests. When you put this in comparison to Prince William's wedding to Kate Middleton in 2011, it seems very small. Prince William and Middleton invited 1,900 to their wedding in 2011, according to the Telegraph, with over 200 of those guests were members of government and parliament — but the majority of the guests were still their family and friends. Since Prince Harry isn't expected to inherit the royal throne, according to The Sun, and Prince William is, it makes sense why he would have more attendees (especially official government figures) come to his wedding.
Although only 600 people got an inside seat at St. George's Chapel, 2,460 members of the public did get a chance to get a glimpse at the newlyweds and their wedding guests, according to The Telegraph. This large group that was invited to the castle grounds was comprised of people from Windsor Castle's community, school children, people from charities and organizations, members of royal households, and people nominated by nine regional Lord Lieutenant Officers, according to the Telegraph.
Although being a part of that group of 600 people who were able to score an invite to the royal wedding might have been nearly impossible, rest assured people were more than fine watching it from their couches in their pajamas at home on Saturday.