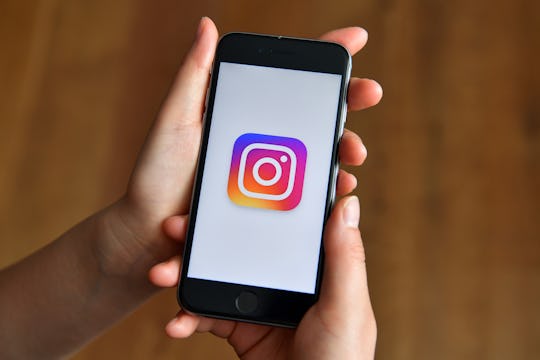 Carl Court/Getty Images News/Getty Images
Yes, There *Is* A Limit To How Many People You Can Tag On Instagram
Instagram is easily one of the most popular social media platforms, but even those who use it regularly may not know how many people they can tag on Instagram in one post, or other limitations Instagram has in place. As it turns out there are, in fact, limits to the number of friends you can tag in that photo you posted of your friends enjoying the perfect moms' night out.
You can tag up to 20 accounts in a post on Instagram, according to Social Buddy. Additionally, the Instagram help center notes that you can't include more than five "@ mentions" in a single comment on the site. So, you can only identify 20 of your friends in that big group photo that you post to your feed and when you want your friends to see a very hilarious meme on Instagram, there's a limit to how many friends you can tag in one comment. So it does seem to matter whether you're tagging people in a post or a reply when it comes to the overall number of people you can mention.
The key difference seems to be whether you are "tagging" people in an Instagram post by mentioning them using the "@" sign in a caption or comment, or whether you're clicking on "tag people" before you share the post and adding tags to the actual photo being published.
Just to be sure, I tested the number of people I could tag in a single Instagram post. When using the "tag people" function, I could only get to 20 before Instagram stopped me from adding any more accounts. However, when I used the "@" sign to tag people in the caption of the post, I got past 20 and Instagram let me keep tagging. When tagging people in the comments of a post, it let me tag more than five people without getting an error. Even after posting a photo with 22 people tagged, all of the tags showed up.
So the official limit for tagging people appears to be 20 people, but you can still get people's attention on a post that you'd like them to see, whether it's because they're in the image you've posted or not, by simply tagging more people in the caption of the post itself. This way they'll know you want them to see the specific post.
There are also limits to how many hashtags you can use in one comment, which are a great way to get your posts seen and encourage engagement with other users. According to Instagram you can only use up to 30 hashtags in one post.
While this may seem like a trick that can be easily exploited, you should be careful not to make Instagram mad enough to end up with a shadowban, or otherwise have your account limited on the site.
Instagram is currently one of the most downloaded (free) phone apps in the Apple app store with more than 1 billion users and it's the third most popular social media platform in the United States, as Forbes reported in March 2018. That statistic is based off of a survey the Pew Research Center did on social media use in 2018, which found that 35% of U.S. adults say they use Instagram. And it's particularly popular with young people: 71% of American 18- to 24-year-olds reportedly use the social media platform every day.
Since Instagram is and will probably continue to be so popular, it's a good thing for people to learn all that they can on how to use it effectively.
Additional reporting by Casey Suglia.
This article was originally published on