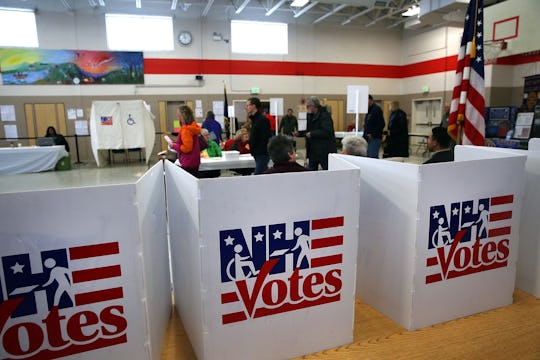 Spencer Platt/Getty Images News
How Many People Vote In The New Hampshire Primary? Voter Turnout Could Break Records
Polls for the 2016 Presidential primary opened in New Hampshire early Tuesday morning. In fact, they opened just after midnight in some communities — like Dixville Notch, a small "unincorporated" town of 12. And while candidates have been stumping in the state since late last year — hosting town hall meetings, rallies, and meeting with voters — no matter what each did, or how many babies they kissed, everything will come down to one day, and to one vote. But who are today's voters? Exactly how many people vote in the New Hampshire primary?
According to New Hampshire Secretary of State Bill Gardner, Tuesday's turnout has the potential to be huge. In an interview with WBZ NewsRadio 1030, Gardner said:
I expect that we'll exceed 500,000. I think we'll get up into even 550,000.
If Gardner's prediction is in fact correct, Tuesday's presidential primary may not just be big, it may be New Hampshire's biggest primary ever — beating out 2008, which drew out more than 525,000 people and more than 50 percent of all eligible voters, according to CNN.
All registered voters are allowed to participate in the New Hampshire primary, not just those registered Democrat or Republican.
Independent or otherwise unaffiliated voters (who, in this case, are classified as independents) may vote for candidates in either party which is important note, as independents make up the bulk of the New Hampshire electorate — as much as 43 percent, according to Al Jazeera.
Business mogul Donald Trump and Vermont Sen. Bernie Sanders have both been leading the New Hampshire polls by double-digit margins, so all eyes have been on the potential second- and third-place finishers in the Republican race. (The most recent polls place Florida Sen. Marco Rubio, Texas Sen. Ted Cruz, Ohio Gov. John Kasich, and former Florida Gov. Jeb Bush following in that order and less than five percentage points apart, according to USA Today. If one of them can break away from the pack, it will give them the a huge advantage.
The best former Secretary of State Hillary Clinton can hope for is to close the gap between her and Sanders, according to USA Today. Though Twitter has reminded people to never say never:
It's been 100 years since New Hampshire held its first presidential primary, and today's primary has the potential to be just as historic — and important — as the one held in 1916.
Polls in New Hampshire at 7 p.m. and many expect results before the 11 p.m. news.