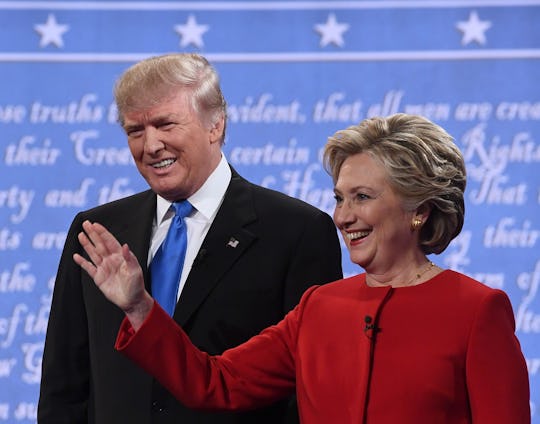 JEWEL SAMAD/AFP/Getty Images
How Many People Watched The First Presidential Debate? The Numbers Were Record-Breaking
Hordes of undecideds and supporters alike tuned in Monday night to catch Donald Trump and Hillary Clinton duke it out on-air. CNN reports that, of all the televised debates in the past, this was the most viewed debate yet. So how many people watched the first presidential debate? According to Nielsen estimates, some 81.4 million Americans across 11 networks watched, a number that would be even higher if streaming services were included in the count, the Associated Press reported this on Tuesday.
Live-streaming totals are likely to put these debates way over the 81 million mark. Youtube pulled in around 2.5 million viewers alone, with millions of others streaming on Twitter, Facebook, and elsewhere too. Other, yet-to-be included totals are the numbers from PBS (about 3 million viewers) and C-SPAN.
Nevertheless, the near-81 million number easily outdoes the showing in the last presidential cycle. In 2012, President Obama's first debate with Mitt Romney averaged about 67 million viewers. Clinton and Trump weren't competing with Obama and Romney, though, as far as top-notch viewership is concerned. Previously, the most viewed debate of all time occurred in 1980, when Jimmy Carter debated Ronald Reagan in front of an audience of 80.6 million. The runner-up occurred in 1992 between Bill Clinton, George H.W. Bush, and Ross Perot with 69.9 million.
NBC led broadcast network viewership with 18.2 million, followed by ABC's and 13.5 million and CBS' 12.1. Amongst cable channels, Fox News' 11.4 overshadowed CNN's 9.8 million and MSNBC's 4.9 million.
Seeing as recent polls in the days leading up to the debate revealed that Clinton's lead over Trump was shrinking, it's no wonder that so many people made sure to tune in. Ultimately, Clinton won the debate, a CNN/ORC poll concluded, garnering 67 percent to Trump's 27 percent. By a margin of more than 2-to-1, the surveyed audience believed that "Clinton expressed her views more clearly than Trump and had a better understanding of the issues." In evaluating the candidates' sincerity and authenticity, Clinton also won out, albeit by smaller margins. Viewers whose voting choices were previously undecided pre-debate reported that, post-debate, they ended up leaning towards Clinton to a greater degree.
As the final totals are tallied, the candidates are likely studying their performances as they prepare for the next two scheduled presidential debates, which are to take place on Oct. 9 and 19, in St. Louis, Missouri and Las Vegas, Nevada, respectively. Whether or not these debates will have higher or lower viewership than their predecessor's is anyone's guess—if anything, this election season has proved itself to be completely surprising.