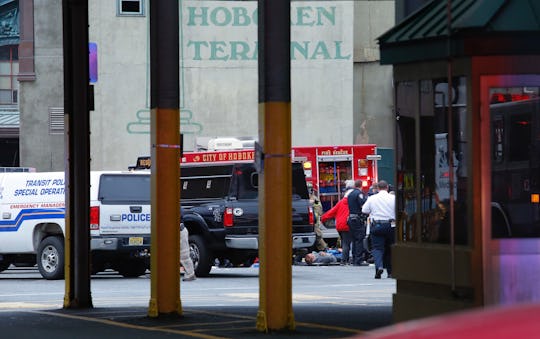 KENA BETANCUR/AFP/Getty Images
How Many People Were On The NJ Train To Hoboken? The Crash Injured Dozens
On Thursday, NJ Transit train No. 1614 crashed into the Hoboken train station at 8:45 a.m. How many people were on the NJ Transit train to Hoboken? The train was carrying 250 people, and at least three people are dead, with more than 100 people injured, according to multiple news sources.
The crash caused extensive damage to both the train and the station. Pictures show the roof caved in. Witness Ben Fairclough, who arrived at the station just shortly after the crash, described the damage left after the crash. "I saw debris everywhere and water coming from the ceiling," Fairclough told CNN. "There were people climbing out of the windows."
Newark's Regional Medical Examiner's Office and the Jersey City Medical Center confirmed at least one death and that the the number of people injured is somewhere from 75 to 100 people, according to NBC New York. Three patients in serious or critical condition were brought to Jersey City Medical Center with non-life threatening injuries, according to hospital president Joe Scott. More than 40 patients were brought to the hospital with non-serious injuries, and should be discharged.
Law enforcement told Fox News that the train's engineer was one of the people who has been taken to a nearby hospital.
A passenger riding the train, Joe Breen, told CBS News that the train never slowed down as it was entering the station. "It rammed into the barrier and basically kept going," he said. New Jersey Transit spokesperson Jennifer Nelson told news sources she doesn't know how fast the train was going before the crash. The Pascack Valley train, which was supposed to arrive at Hoboken Terminal at 8:38 a.m., was running late.
"The next thing I know, we are plowing through the platform," Bhagyesh Shah, who was also aboard the train when it crashed, told NBC New York. "It was for a couple seconds, but it felt like an eternity."
WFA anchor John Minko was at Hoboken Terminal on the stairs to the PATH train when he witnessed the crash. "It was mass confusion," Minko told CBS New York. "And the people that I was with, whoever they may have been, it was just a mad scramble to get away from the scene."
Several passengers reported that many of the injuries were in the first two cars of the train, which are the most crowded during rush hour. The cause of the crash is unknown. An FBI spokesperson told CNBC that the National Transportation Safety Board is in charge of in charge of investigating the incident.
"We need to investigate all potential causes, but you can see from the level of destruction that this was a train that was traveling at a high rate of speed," New Jersey Governor Chris Christie told CNN.
Rail and PATH service to Hoboken has been suspended.