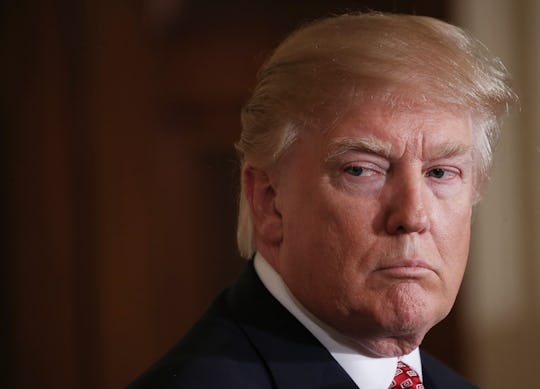 Mario Tama/Getty Images News/Getty Images
Trump Isn't The First POTUS To Miss The WHCD
President Donald Trump announced in a tweet on Saturday night that he'll be skipping this year's White House Correspondents' Association Dinner on April 29. The news comes amid increasingly tense relations with the press and banning several media outlets from White House briefings, calling the media the "enemy of the people." Social media was quick to attack the president's decision and even suggested that SNL Trump impersonator Alec Baldwin take his place. But, Trump isn't the first president in modern American history to RSVP "no" to the glitzy event. So, how many presidents have skipped the White House Correspondents' dinner before Trump?
Since the first White House Correspondents' Dinner took place in 1921, every sitting president since 1924 has attended the the black-tie dinner at least once, according to NBC News. Meaning, presidents have skipped the dinner from time to time over their terms, but they all made it to at least one while they were in office. President Barack Obama attended eight times.
Trump's absence isn't unprecedented, but he would be the first POTUS in more than 30 years to miss the event. Ronald Reagan was the last president to skip the dinner in 1981 because he was recovering from a gunshot wound after a failed assassination attempt, according to the Reagan Library. Although Reagan couldn't be there physically, he still called in from the hospital that evening.
"If I could give you just one little bit of advice, when somebody tells you to get in a car quick, do it," Reagan told about 1,800 attendees over the phone in 1981, according to transcripts from the Reagan Library.
Nevertheless, the show will go on: White House Correspondents' Association president Jeff Mason wrote in a statement on Saturday that although Trump plans on not attending, the dinner "will continue to be a celebration of the First Amendment and the important role played by an independent news media in a healthy republic."
The statement continued, "We look forward to shining a spotlight at the dinner on some of the best political journalism of the past year and recognizing the promising students who represent the next generation of our profession."
If Trump is true to his word and doesn't end up attending the event, social media would certainly be delighted if the president's SNL doppelganger subbed in for him at the event, which raises money for journalism scholarships and attracts A-list celebrities among media professionals.
Presidents are typically expected to poke fun at themselves and be a bit self- deprecating at the annual event. But, as The New York Times put it, "Trump is decidedly not" that way.
As the level of tension between the White House and the press continuously increases, Trump's decision is not all that surprising. Hopefully as time passes, this administration will one day be able to have a cordial relationship with the media. There's always next year.