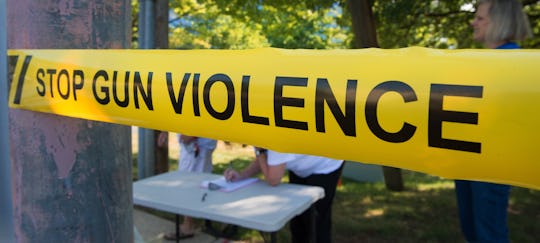 PAUL J. RICHARDS/AFP/Getty Images
How Many School Shootings Have There Been In 2016? Townville, South Carolina Is The Latest
The horrifying news that yet another school shooting had taken place in Townville, South Carolina only reaffirm the need for gun violence reform throughout America. But just how many school shootings have there been in 2016? The shooting at an elementary school in Townville, South Carolina, is just the latest school to make headlines, but the issue is one that's been on the front lines since Columbine in 1999 and the devastating shooting at Newtown Elementary School just weeks before the holiday season in December 2012.
According to EverytownResearch.org, there have been 196 school shootings in America since 2013. The numbers, published by Everytown For Gun Safety Support Fund, an independent, non-partisan 501(c)(3) organization that, according to its website, is "dedicated to understanding and reducing gun violence in America," highlight America's biggest failure and its most heartbreaking flaw: We have a gun problem, and unless we fix it, the stats are only going to climb higher. An interactive map of the school shootings, published by the Los Angeles Times in October 2015 only further illuminates the problem: Since the Sandy Hook shooting in 2012, where 26 children and adults were killed, a gun has been fired nearly once a week on school grounds.
If that doesn't make you sick to your stomach with rage, then we have an even bigger problem.
Once news of the Townville Elementary School shooting became available, there was an immediate call for "thoughts and prayers" for the victims and their families. Sending thoughts and prayers for the victims and their families for the days and weeks to come is natural reaction, but sending thoughts and prayers isn't enough. In the worst-case scenario, a school shooting means that there are lives lost, and prayers, unfortunately, aren't enough to bring them back. Prayers don't create change. Advocating, demanding better, calling your local representative and asking them, point-blank, what they're going to do to ensure that this never happens to your town, to your school, to your child — that is how you create change.
The stats confirm that there is a school shooting nearly every week. If that's a fact that doesn't sit well with you, then you should absolutely call your elected official and advocate for gun violence reform. In fact, there are plenty of ways to do that. Elected officials are elected by you. That means they work for you. And the best way to ensure that your voice is heard and that your elected official is taking seriously the things you care about, you can find your representative and call them. Not sure who your representative is? You can look representatives up in a directory and contact them from there. It lists what their telephone numbers are and where their offices are located.
Making change starts at the most basic level. Knowing that every week, more and more lives are lost because of backwards gun control in America only makes me want to campaign more and more for change.