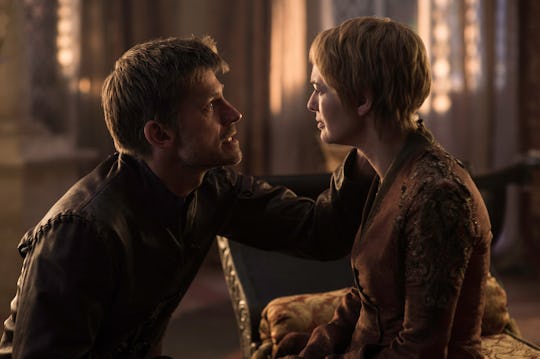 Helen Sloan/HBO
How Many Seasons Are Left Of 'Game Of Thrones'? There Is A Plan In Place
How exactly Game of Thrones will wrap up its run has always been a question on fans' minds. The series of books the show is based on remains unfinished, and audiences had always been curious about how the show would navigate without the books as a guide. Now that the show has zipped past the book series, tackling plots even longtime readers have no knowledge of and relying on author George R. R. Martin for insider info, the only question left is when and how the end will happen. Series showrunners David Benioff and D.B. Weiss have long said that they have a plan in mind with a specific endgame and number of seasons. But what is that plan, exactly? How many seasons are left of Game of Thrones?
Tragically (or not, depending on how you feel about the show), the end is fast approaching. Benioff and Weiss spoke to Vanity Fair two years ago about their intentions to tie the show up after seven or eight seasons. That tentative plan certainly seems to have stuck, with a recent statement to Variety confirming the information. The show is just about to embark on its sixth season and with a clear end point in mind, that means everything can start to fall into place a lot more definitively. (Update: Benioff and Weiss confirmed after the Season 6 finale to Deadline that there would be two more seasons.)
The showrunners want to be true to the vision they've decided on, which is why they want to plan for the end rather than drag the show out endlessly just because it's so popular. Weiss has said, "It doesn't just keep on going because it can. I think the desire to milk more out of it is what would eventually kill it, if we gave in to that." Even with the the end of the series all but decided, there are still a few questions to be asked. The show usually does 10 episodes a season, but it looks like that might change after the sixth season – giving viewers even less Game of Thrones going forward.
Benioff told Variety, "I think we're down to our final 13 episodes after this season. [...] That's the guess, though nothing is yet set in stone, but that's what we're looking at." That would mean the usual 10 for Season 6, but just seven episodes for Season 7 and only six for Season 8 — the final season. Though that isn't one hundred percent official (HBO programming president Michael Lombardo seems hopeful that there might be more), it certainly seems like Benioff and Weiss have been sticking to their guns for years now regarding the show's end.
But don't be too sad, fans — there's always room for a spinoff.