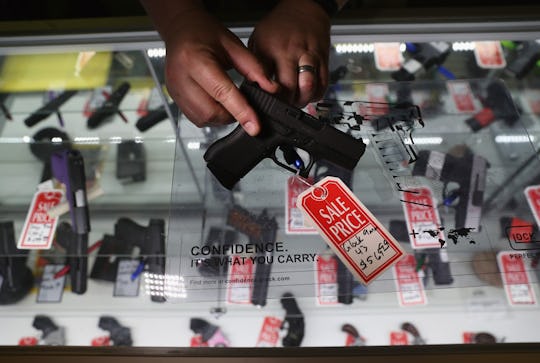 John Moore/Getty Images News/Getty Images
Too Many Domestic Disputes Involve Gun Violence
A little over a year since a terrorist attack in San Bernardino killed 14 people, a shooting at an elementary school has the southern California community in the headlines once again. While the tragedy is a grim echo of the one that came before it, the most recent school shooting was not an act of terrorism, but was reportedly the consequence of domestic violence. How many shootings are related to domestic disputes? The North Park shooting is one of many that occur in the U.S. each year.
On Monday morning, a man named Cedric Anderson reportedly walked into North Park Elementary School and headed for the classroom of his estranged wife, Karen Elaine Smith, a special education teacher. Anderson reportedly shot Smith, then himself, in what police are reporting was a murder-suicide, according to ABC News. Two students in Smith's classroom were also injured as a result of the gunfire. 8-year-old Jonathan Martinez died of his injuries after being taken to a nearby hospital. The other child, age 9, is still in the hospital but is reportedly in stable condition. Police have determined that Anderson had a criminal history, including weapons and drug-related charges, according to The New York Times. He was in possession of a .357 revolver which he used to shoot Smith after being allowed into the building, gaining a visitor's pass, and signing in at the front office per the school's security measures, according to the Times.
Anderson and Smith's marriage was reportedly estranged, and police believe that she was the sole target of the shooting, according to The Washington Post. Although there were a total of 15 students in the classroom at the time, as well as two teacher aides, it is unclear how the two students were shot. Smith's family told The Post that Anderson had been "paranoid and possessive," which lead Smith to leave him just a few months after they married.
According to the National Coalition Against Domestic Violence, 19 percent of domestic disputes involve a weapon, and the presence of a gun in a domestic violence situation increases the likelihood of a partner being killed by 500 percent. Of all murder-suicides committed, 72 percent involve a spouse or intimate partner, and 94 percent of the victims are female. What's more, the NCADV reports that every year 1 in 15 children will be exposed to domestic violence, and 90 percent of them are eyewitnesses to the events, which at times end in homicide.
Additionally, it's important to point out the role firearms play in these incidents. Most, if not all, homes have knives in them, and yet knives are not known for being used often in domestic violence incidents. Not all people own guns, yet the statistics that show guns are involved in domestic violence situations are well-researched and established. The speed with which someone can be threatened, hurt, or killed with a gun is paralleled by no other weapon.
Despite these harrowing statistics, people with a history of violence are still able to obtain weapons in the U.S., and the onus of putting an end to domestic disputes is often placed on the female partner. Women are often made out to be responsible for either causing — or not successfully putting a stop to — domestic violence. As the U.S. Department of Justice's report points out, leaving an abuser can pose an even greater danger than staying unless proper social and legal support is in place. 1.3 million women are physically assaulted by a partner each year, according to the CDC — but those are just the numbers that get reported. The NCADV has found that domestic violence is one of the most underreported types of crime in the U.S.: only 20 percent of physical assaults by an intimate partner are reported by women to the police. Even outside of filing a report, only 34 percent of women seek medical attention after such an assault.
Because the shooting in San Bernardino took place at an elementary school, it is being classified as a school shooting — and in fact, the North Park shooting is the 12th school shooting in 2017 in the United States, according to Everytown For Gun Safety. That being said, to overlook the domestic violence components of the story leaves out an important side: the victim's. A side that all too often goes unheard and unseen.