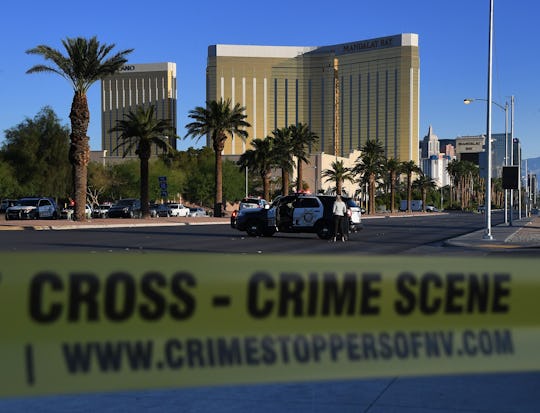 MARK RALSTON/AFP/Getty Images
The Number Of Shootings That Have Happened In 2017 So Far Is Startling
Americans woke up Monday morning to news of a horrific mass shooting in Las Vegas that reportedly left at least 58 dead, and hundreds more injured. While each shooting like this continues to shock and sadden anew, these events are far too common. But, how many shootings have there been in 2017 so far? According to the Gun Violence Archive, Sunday night's massacre in Las Vegas marks the 273rd such shooting in 2017 to date, which averages out to nearly one for each day of the year so far. Clearly, something needs to change.
Update: As of 6 p.m. ET on Monday, Oct. 2, CNN reports that 59 people have died and over 500 people were injured. Authorities say the suspect had 18 additional firearms, explosives and several thousand rounds of ammo at his home in Mesquite, Nevada.
Earlier: The Las Vegas shooting, in which a gunman opened fire from the 32nd floor of the Mandalay Bay Resort and Casino, targeting the crowd who had gathered to enjoy the Route 91 Harvest Music Festival across the street, is being called the deadliest mass shooting in modern U.S. history, according to CNN. The previous shooting to hold that horrible record happened only a little over a year ago, when a gunman killed at least 49 people at Pulse Nightclub in Orlando.
But a staggering number of mass shootings have happened in between, and the fact that many of them barely make a blip in the news cycle only goes to show the heartbreaking extent to which gun violence has been normalized in this country.
Gun Violence Archive, a non-profit that tracks gun violence in America, defines a mass shooting as one in which at least four people are shot, not including the shooter. The Las Vegas shooting happened fewer than 24 hours ago, and already it is not the most recent entry on the Archive's list — also on Sunday night, five people were shot in Lawrence, Kansas, and three of them died, according to LJWorld.com.
All in all, Gun Violence Archive lists 273 mass shootings so far in 2017. And if that number isn't heartbreaking enough, consider the number of mass shootings since Sandy Hook, after which a horrified nation vowed to do something, anything, to prevent such violence from happening again. Vox reported that, since that December 2012 incident in which a gunman killed 20 young schoolchildren, at least 1,518 mass shootings have occurred in the country.
The numbers should serve as a stark wake-up call to anyone who believes that gun violence isn't a real problem in America. And, of course, looking solely at mass shootings dismisses all the incidents in which only one to three people are shot, which occur with even more frequency, and leave massive heartbreak in their wake all the same. Newsweek reports that, so far in 2017, there have been roughly 11,600 deaths linked to gun violence. Many of the instances not included in the mass shootings list involve domestic violence, suicides, and accidental firearms deaths involving children.
Each time another tragedy like this makes headlines, many offer up their thoughts and prayers to the victims and their grieving loved ones. And while it is absolutely important to mourn and support as people reel from the horror, it's becoming more and more clear that thoughts and prayers aren't stopping the violence. Weapons that allow someone to murder more than 50 people and injure hundreds within the span of minutes should not be easily accessible.
Americans have more guns per capita than any other country in the world, and are more likely to be killed by gun violence than people in any other developed country as well. Our glorification of guns is trapping us in a horrific kind of Groundhog Day, in which we wake up, morning after morning, to the same tragic news, just with different names and places.
There is broad bipartisan support for many gun control measures. Each day that goes by without taking action is another day in which more people fall prey to this awful epidemic. Now is the time to call your representatives.