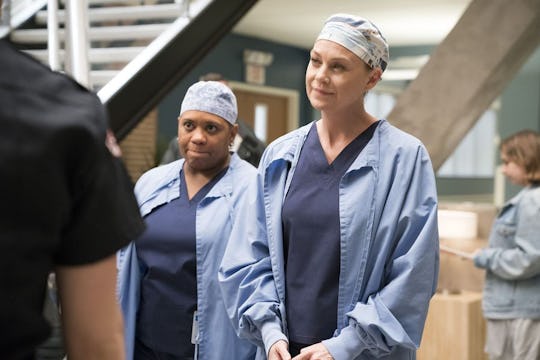 Mitch Haaseth/ABC
Miranda Bailey Will Be Making A Name For Herself On 'Station 19'
Station 19 is finally here and it's the show many Shondaland fans have been waiting to see. Not only is it the newest series executive produced by Shonda Rhimes, it's also the latest Grey's Anatomy spin-off. But while Station 19 will be its own show, fans are hoping to see at least some of their favorite Grey's characters on the new series. Thankfully, it looks like Dr. Miranda Bailey will be showing up from time to time, but how many Station 19 episodes will Bailey be in?
Bailey will at least appear in the premiere episode, "Stuck," as she's seen in the promotional photos for that episode. In the premiere, Andy and some of the other firefighters end up at the hospital because Andy's father who is the fire department chief, ends up becoming a hospital patient. Naturally Bailey, along with Meredith, step in to help.
The question of how many episodes Bailey will be in remains unknown for now, but the door is definitely open for her to visit the new series, especially because her husband, Ben Warren, is one of the stars. Chandra Wilson, who plays Bailey, told TV Guide, "Ben and Bailey are husband and wife who now work in separate places and we get to explore what that looks like through both shows."
Wilson also told Entertainment Weekly, "[Ben and I will] do some back-and-forth coming up for the last half of this season of Grey's, between Station 19, me being there, and him being over at Grey's." Thus, Bailey will definitely be in at least a couple of Station 19 episodes during the first season and Ben will also pop up again on Grey's. I can't narrow it down to a specific number, but it'll probably be a fair amount since she is married to Ben after all and it makes sense that she'd see her husband from time to time. Perhaps she'll drop by and see him at work or maybe fans will just see the couple come together at home after their separate long days (or nights) at work.
Besides Bailey's appearances on Station 19 and Meredith's appearance in the premiere episode, it'll be interesting to see if and when other Grey's characters crossover to Station 19. None of the others really have any connection to the characters on Station 19, at least not that we know of, so it seems unlikely to happen, but you never know. The fire station is only three blocks away from Grey Sloan Memorial Hospital so it'd be pretty easy for characters from each show to cross paths. Plus, as the backdoor pilot for Station 19 proved, the two professions already have an inherent crossover potential.
Whether or not there's a lot of crossovers between the two shows, Station 19 looks like it'll be another hit for Shondaland. The star of the series, Andy, has an interesting story, growing up in the fire station, similar to how Meredith grew up in the hospital environment. With her father ending up in the hospital and choosing to step down as chief, fans will get to see Andy step up at the fire station and take charge. They'll also see her get caught in the middle of a love triangle with her coworker, Jack, and her lifelong best friend, Ryan.
All of that, plus the added drama that comes with being a firefighter will surely make this new series exciting watch. You can see for yourself when Station 19 premieres on Thursday, March 22 at 9 p.m. EST on ABC right after Grey's.
Check out Romper's new video series, Romper's Doula Diaries:
Watch full episodes of Romper's Doula Diaries on Facebook Watch.