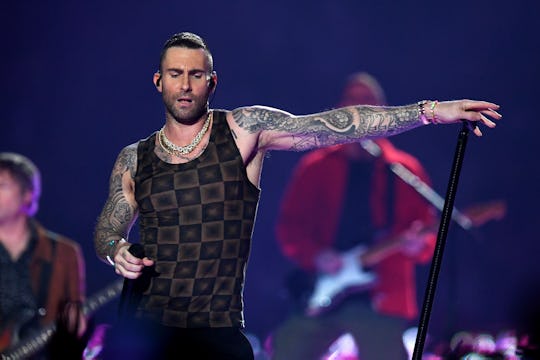 Kevin Winter/Getty Images Entertainment/Getty Images
Adam Levine Gave Everyone A Peek At His Ink, But How Many Tats Does He Have?
Maroon 5 frontman Adam Levine gave fans a bit of a thrill during the Super Bowl LIII halftime show when he took the stage and then, well, he ripped off his shirt. In addition to a peek at his six-pack, viewers also got a glimpse of his ink. So how many tattoos does Adam Levine have? There's at least a dozen, it seems, and many of them have a deep meaning for the singer.
As far an exact number goes, it's not easy to pin down. Ranker put it at 15 tattoos, while Country Living guessed that it was upwards of 20 (the magazine rightly predicted that we'd be seeing an eyeful of Levine's toned chest during the show, for what it's worth).
One of Levine's more prominent tattoos is the word "California" across his abs. The meaning behind that one is pretty obvious — the singer was born and raised in Los Angeles, according to Biography.com. It seems he's keen for his daughters with model Behati Prinsloo to grow up there, too, as TMZ reported the couple dropped a whopping $35 million dollars on a Beverly Hills mansion last year.
Speaking of Prinsloo, a couple of Levine's other tattoos honor his gorgeous wife. In Style reported that in 2017, the singer debuted new ink across his knuckles spelling out "True Love" in a nod to the model. The two have some matching tattoos as well, according to Brides. Prinsloo told the magazine that she and Levine each got tats that said "you're so cool, you're so cool, you're so cool" when they got married in 2014. They also both got tats on their ring fingers instead of traditional wedding bands.
As covered as his stomach and chest are, Levine's back is even more inked up. His massive back tattoo is quite the work of art, depicting a winged mermaid cradling a skull. The singer said on Instagram that it took six months to complete, which is quite the commitment. No word, unfortunately, on what it all means. I for one would love to know the story behind those striking images.
As you can see, Levine's also got full sleeve tattoos on both arms. The Cut mapped out many of the symbols that make up those sleeves, including a '222' (representing the studio number where Maroon 5 recorded their first album), a guitar, lots of feather, and a heart with 'Mom' written across it — how sweet is that?
Levine got his first tattoo back when he was 21, according to the Daily Mail, but the collection seems to have grown a lot faster in recent years. The L.A. Times noted that much of his ink is fairly new, pointing out that his chest was far less covered as recently as 2015. It seems like Levine's collection of body art is still a work in progress, so don't be surprised if the final tally continues to rise for years to come (or at least until he runs out of skin).