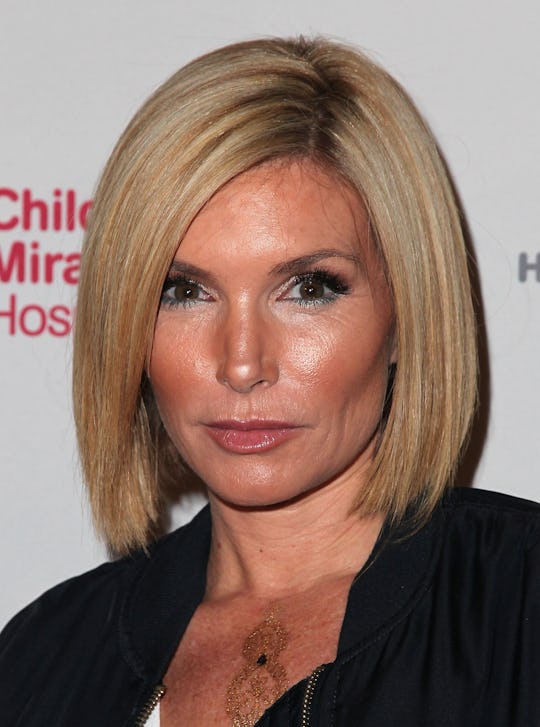 David Buchan/Getty Images Entertainment/Getty Images
Eden Sassoon Is Rocking Some Serious Ink
Eden Sassoon is a new addition to The Real Housewives of Beverly Hills Season 7 and she has set herself apart in a few different ways. When she's not running her luxury pilates studio or checking in at her full service salon, EDEN by Eden Sassoon, she's stirring up the past on the show and edging onto Kyle Richards' bad side in the process. Eden refers to herself as "a little bit of a rebel in a fun playful way," which is reflected in her sense of style if not necessarily her time on the show. With her love of yoga and pilates and crystals, she's got more a New Age vibe than the rest of the women. She's also got numerous tattoos, one more thing that sets her apart. But how many tattoos does Eden Sassoon have, exactly? Let's just say it's a pretty significant amount.
It's hard to find an exact count and even harder to get a glimpse of all of her ink, but Eden appears to have at the very least 12 tattoos visible on her arms, chest, and back. While a few of them are symbols that I, personally, can't decipher, it seems that most of them are words that are in some way meaningful to Eden and represent a story of some very important part of her life. So let's take some time and go through all of the various ones we know about, shall we? And luckily, social media offers us a glimpse at some of her more prominent tats.
On her arms she has some simple, positive words and phrases like "truth," "faith," "love story" (which is somewhat hard to read, but seems to be a favorite phrase of hers judging by her Instagram hashtags), and "perfectly imperfect." She also has the saying "this too shall pass" on her collarbone, which likely has particular resonance to Eden considering her past struggles with sobriety. She's dealt with some tragedy in her life as well, such the loss of her older sister, Catya, to an overdose. "This too shall pass" is often a saying used in addiction recovery and according to an interview with Fashion Weekly, it's something Eden says daily.
Some of the other tattoos Eden has are hard to make out. She has a vine tattooed around one wrist, as well as other symbols and lettering. It appears there might be a character of some sort on the inside of her arm, but I couldn't speak to its country of origin.
It seems like Eden expresses herself and her journey through her tattoos, and that some of them even function as little reminders to help her through the day. As long as they mean something to her, then that's all that matters.