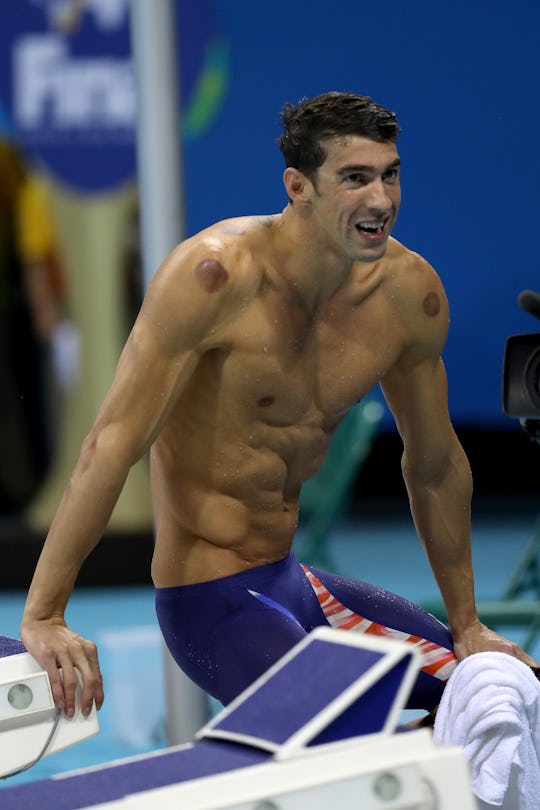 Al Bello/Getty Images Sport/Getty Images
How Many Tattoos Does Michael Phelps Have? He Keeps Them (Mostly) Hidden
You don't even have to follow swimming to know that Michael Phelps is a total athletic powerhouse. He's already picked up three gold medals at the 2016 Rio Olympic Games so far, and still has more events to come. But Phelps got tongues wagging for another reason recently, after showing up to the pool with his arms and back covered in dark circular marks that looked like some kind of strange new tattoo design. Closer inspection revealed that the marks are actually from an alternative therapy called cupping (something Gwyneth Paltrow also made headlines for in years past), though Phelps does indeed have some proper tats of his own as well. How many tattoos does Michael Phelps have? He hasn't publicly confirmed the number, and the ones we can see are only partially visible, but it seems like the answer is two.
According to The Daily Mail, one of Phelps' tattoos is a common inking among Olympic athletes: the symbol of the Olympic rings. Phelps has the design low on his right hip, and it can often be seen peeking out of his shorts when he competes (he even showed it off in its entirety during a GQ photo shoot in 2008). A number of other athletes also sport a similar tattoo as well: former Team USA swimmer Matt Grevers, Phelps' current teammate Ryan Lochte, U.S. swimmer Elizabeth Beisel, Canadian swimmer Alexa Komarnycky, and former British Olympic cyclist Chris Hoy, all have the rings inked on their bodies, too.
The allure of the Olympic tattoo makes sense — after all, it's not exactly something you're going to get on your body unless you've actually competed in the Olympics, so having it is a permanent way of celebrating the fact that you've competed in an event that most of the world could only dream of participating in. American archer Brady Ellison, currently competing in Rio, got Olympic tattoos himself after competing in both the 2008 and 2012 games. As he explained to The Washington Post, "It's one of the things you see all the cooler Olympians having ... I feel like the Olympic rings is the one tattoo that only we can get."
As for Phelps' other tattoo? Well, the story behind that is a little less clear. In fact, it's still not entirely evident what the tattoo even is. Phelps gave an inadvertent glimpse of his second tattoo — located low on his left hip — in a gorgeous Instagram photo announcing the birth of his first child, Boomer, with fiancée Nicole Johnson, in which a shirtless Phelps is cradling his newborn son, while Johnson looks on. The design looks as though it's a block letter 'M,' but Phelps fans on Twitter have different theories about its meaning. Some say it's an ode to the University of Michigan, where according to The Michigan Daily he previously trained with coach Bob Bowman (though he didn't pursue a degree). Others have speculated the 'M' is actually for Maryland, where Phelps grew up.
Whatever the 'M' stands for, his for-real tattoos have been getting a lot less attention than the tattoos Olympic viewers thought he had gotten following Phelps' cupping therapy. Although the alternative therapy hasn't been particularly proven to be effective, proponents of cupping say that the treatment helps loosen and relax the muscles — something which, for an Olympic athlete, sounds pretty important. According to NBC Olympics, cupping "involves a therapist heating small glass cups, then placing them on the skin and pulling them from the body," which, unsurprisingly leaves round bruise-like marks on the skin.
It's still to be seen whether Phelps plans on adding to his collection of tattoos, or whether he's happy to leave it at just the two he already has. If he did though, he'd certainly have lots of inspiration: another Olympic-themed tat or two maybe, or a tattoo in tribute to his adorable young son (who has been in the stands with Johnson watching his dad compete!). Although given the fact that Phelps seems to like keeping his tattoos under wraps, it could also be that he's just running out of space — swim trunks don't cover a whole lot, after all.