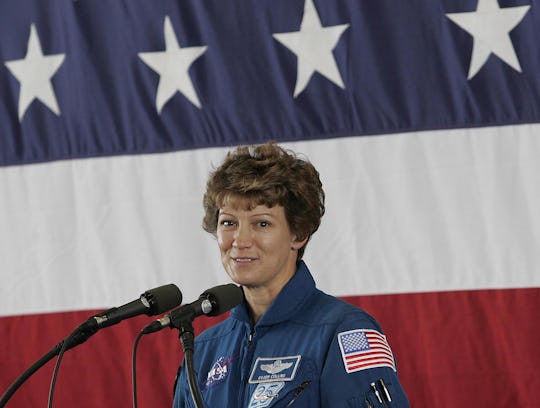 JAMES NIELSEN/AFP/Getty Images
How Many Times Did Eileen Collins Go Into Space? The RNC Speaker Has An Impressive History
Eileen Collins is listed as one of the featured guests at the Republican National Convention on Wednesday night and will speak third. While Collins might not be the highlight of the night (I'm looking at you, Cruz and Pence) she's still a pretty important person — and by that, I mean she's a former astronaut with a litany of amazing accomplishments. Despite the fact that you may not appreciate or agree with her views on politics (or rather, the politics of the man she's chosen to support for president), learning just how many times Collins went to space should at least leave you awestruck enough that you might forget all that.
As it turns out, Collins has spent a lot of time in space. According to Townhall, Collins spent over 537 hours in space. That's quite an accomplishment, to say the least. If that many hours are hard to visualize, think of it this way: According to Space.com, Collins spent over 36 days in space during her career.
Even better, it turns out Collins wasn't just making a name for herself in the history books, she was also achieving a childhood dream: Collins had wanted to go to space from a very early age. According to Heavy, after obtaining several degrees from prestigious universities in pursuit of becoming an astronaut and undergoing U.S. Air Force pilot training, Collins finally applied to NASA in 1989. It was at NASA that she joined the space shuttle program's pilot training and finally became an astronaut in 1991 at the age of 59, and later, the first female shuttle commander.
Talk about an impressive resume.
It is only fitting that Collins will be speaking at the Republican National Convention on Wednesday night. Wednesday night marks the 47th anniversary of the Apollo 11 moon landing. Wednesday night is also themed "Make America First Again." According to the CBS, Wednesday night's theme suggests "under a Trump administration America will once again be a beacon of progress and opportunity." It is only fitting that Collins speak on Wednesday because of her accomplishments made at NASA — making progress for women who want to go to space.
According to Heavy, Collins was the first female space shuttle commander ever, even piloting her first space shuttle mission in 1995 and making history. She then continued to go to space for three more shuttle missions before retiring from NASA in 2006.
But don't think just because Collins is speaking at the RNC means she supports Trump. She supports the United States going to space. According to a statement Collins provided to Mashable, the message of Collins' speech will not be political. According to Space.com, Collins will be talking about how "the Apollo program inspired Americans to rally behind a cause." This makes sense, as Collins has criticized the Obama administration's decision to cancel NASA's Constellation program.
Believe it or not, going to space is a pretty controversial issue in politics that is often overlooked. Hopefully, Collins' speech draws attention to the accomplishments created by the United States and the opportunities given to women when we went to space. As an incredibly accomplished and successful astronaut, Collins is the woman who can bring attention to the subject amidst such an eventful and slightly chaotic convention.