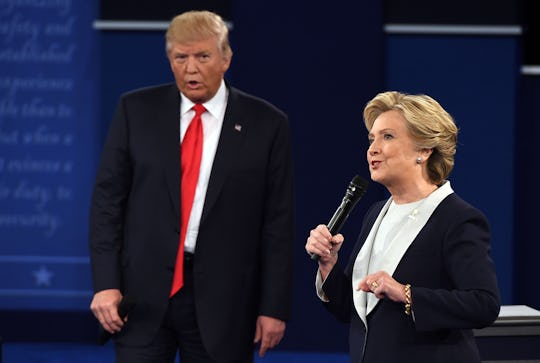 ROBYN BECK/AFP/Getty Images
How Many Times Did Trump Interrupt Clinton At the Second Presidential Debate? Too Many
In the run-up to Sunday night's debate, it's clear the kind of strategy Donald Trump was planning to use against his rival, former Secretary of State Hillary Clinton: intimidation. From inviting accusers of her husband's to sit in the audience, to stalking angrily behind her, and even threatening to throw her in jail, Trump was hoping to rescue his collapsing support by overpowering his opponent. During the first debate, much was made of how often Trump interrupted Clinton. So how many times did Trump interrupt Clinton at the second debate? Too many, but still fewer than during the first meeting between the two presidential candidates.
During the first debate, according to Vox, Trump interrupted Clinton 51 times during the 90-minute program. Clinton interrupted Trump 17 times. During Sunday night's second debate Trump interrupted Clinton just 18 times, and Clinton interrupted just one.
But almost more glaring was the amount of times Trump interrupted the moderators, Martha Raddatz and Andersen Cooper. Trump interrupted them 14 times, mostly to complain they were giving Clinton more favorable treatment, Vox added.
At one point Trump seemed to suggest the moderators were teaming up with Clinton against him with an exasperated comment, "one on three," according to the Chicago Tribune. Trump also asked the moderators, "Why don't you interrupt her?" The Tribune reported.
CNN pointed out that the two candidates were given the same amount of time to speak, Trump a total of 40 minutes and 10 seconds, and Clinton 39 minutes and 5 seconds.
There was moment in the debate that focused on Clinton's e-mail server (because of course) when Trump interrupted her answer six times, according to Fusion. Frustrated, on the fifth interruption, Clinton finally fired back, "Ok, Donald I know you're into big diversion tonight," Clinton said, according to Fusion. "Anything to avoid talking about your campaign and the way it's exploding and the way Republicans are leaving you."
"Let's see what happens," Trump interrupted Clinton for the sixth time," Fusion reported.
But according to FiveThrityEight it was the moderators who interrupted the candidates most often. The site tallied both "interruptions" and "interjections" and counted 41 times moderators added something, speaking over someone, then allowing them to continue speaking, and just one time a moderator took the floor from a candidate.
Perhaps more distracting than the interruptions is Trump's now infamous sniffing into the mic. According to The Wrap's rough count, Trump sniffed 93 times during the 90-minute debate. Someone get the man a tissue.