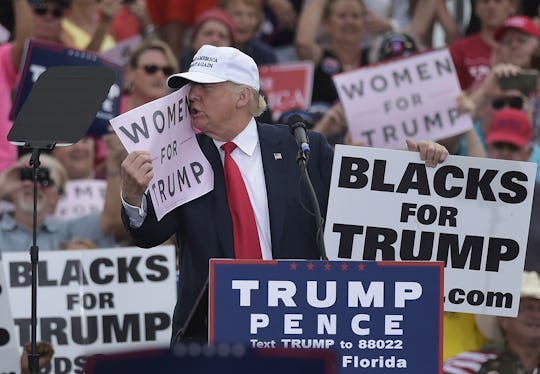 MANDEL NGAN/AFP/Getty Images
How Many Times Has Donald Trump Been Married? More Than Any U.S. President
If there's one thing we can all agree on, it's that Donald Trump cherishes women. I mean, he's said that he has, what reason would anyone ever have to doubt him? In fact, he's even promised before God and everyone else to cherish three specific women until death, because Donald Trump has been married three times, which is notably more than any U.S. president (only Reagan was divorced, and just once). Sure, over a dozen women have accused him not being particularly respectful of women (so far), but those three that agreed to live and breed with him have got to count for something, no? Surely they weren't all just in it for the Miss Piggy-style engagement rings.
In 1977, Trump married his first wife, a Czechoslovakia-born former fur model named Ivana Zelníčková. During this time, the couple had three children, Donald Jr., Ivanka, and Eric. In the 1993 book Lost Tycoon: The Many Lives of Donald J. Trump, former Newsweek reporter Harry Hurt III referenced a 1990 court deposition in which Ivana alleged that, in 1989, Donald violently raped her and tore out her hair as punishment for referring him to her plastic surgeon to reduce a bald spot. Trump and his lawyers provided a statement to be included in the book in which Ivana said that she hadn't meant that her husband literally raped her, only that she "felt violated" after the incident. The Trump campaign did not immediately return Romper's request for comment, but has said in the past that "It's obviously false." Trump's attorney Michael Cohen told The Daily Beast, "You cannot rape your spouse."
Ivana divorced Donald in 1990 amid rumors that he was cheating on her with No Excuses jeans model Marla Maples. Ivana retained full custody of the children. In 1993, Maples gave birth to Tiffany Trump, and Donald was happy to see that she'd inherited her mother's legs. Marla married Donald two months later. In 1997, the couple announced their separation, and Marla moved Tiffany from New York to California, where she raised her alone, bringing her to New York "a couple times a year" to have dinner with her father.
In 1998, Trump met former model Melania Knauss at a party while on a date with another woman. She originally rejected his advances, but the pair became an item in 1999, and married in 2005. Eleven months later, People writer Natasha Stoynoff interviewed the couple in their Florida home about their upcoming anniversary, as well as the impending birth of their first child. When a "then-very-pregnant" Melania left the room to change her outfit, Stoynoff says that Trump pinned her against a wall and forced his tongue down her throat, and later insisted that the two were going to have an affair. The Trump campaign did not immediately return Romper's request for comment on the matter, but a spokeswoman for Trump told People, "This never happened. There is no merit or veracity to this fabricated story." In a recent CNN interview, Melania also denied the allegations, telling Anderson Cooper, "Don't feel sorry for me. I can handle everything."