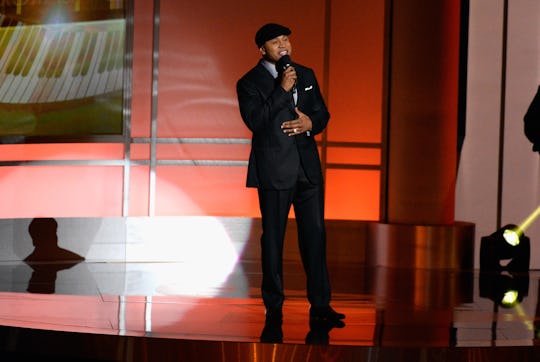 Kevork Djansezian/Getty Images
How Many Times Has LL Cool J Hosted The Grammys? It's Sort Of His Thing
When something works, why change it up, right? That seems to be what the organizers of the Grammy Awards are thinking by getting LL Cool J to host the show again this year. If you feel like you're experiencing deja vu, you're right. This has happened before. But exactly how many times has LL Cool J hosted the Grammys?
This year's Grammy Awards host is headed into his fifth year in a row emceeing the ceremony, making it pretty much a steady gig for him at this point. And most people seem to agree that he's perfect for the job. The Recording Academy President and CEO Neil Portnow have both even said that LL Cool J makes the night.
According to E!, Portnow said of the host in a recent interview that "his unique expertise, both as a Grammy-winning recording artist and accomplished actor, allows him to connect with both his musical peers and the fans at home." Portnow laid it on a little thick, concluding that the musician and actor's "dynamic personality and charismatic energy set the perfect tone" for the show. Still, it's kind of true: LL Cool J has always managed to keep the night moving along, get appropriately excited about honoring all the best tunes and artists of the year, and keeps it super family friendly. He knows what people want.
That's all the Grammys ask for anyway. It's the one award show that showcases more live music than anything else. It's not totally reliant on the humor of the host to keep things from turning into a snooze-fest, like the Golden Globes or the Oscars. In 2015, LL himself called the show "the biggest concert in the world," according to Grammy.com.
This year, there are already a bunch of great performances lined up. Billboard reported that Rihanna, Justin Bieber, Diplo, Skrillex, Chris Stapleton, Bonnie Raitt, Gary Clark Jr., Pitbull, Robin Thicke, Travis Barker and the Hollywood Vampires (Alice Cooper, Johnny Depp and Joe Perry) are all booked to perform. Lady Gaga will perform a David Bowie tribute as well. Adele, James Bay, Andra Day, Ellie Goulding, the Broadway cast of Hamilton, Sam Hunt, Tori Kelly, Kendrick Lamar, Little Big Town, Carrie Underwood, and The Weeknd are also on the performance roster. Essentially, this is going to be a huge show.
One of the best things about LL Cool J's hosting style is that he genuinely seems to like pop culture and knows and understands all of those musicians. In 2012, he and Taylor Swift, who's also performing this year, had a little beat boxing session. It's that sort of silly, worlds-colliding type of moment that makes the Grammys fun.
Let LL Cool J have the Grammys. As long we also give Beyonce the Super Bowl halftime show every year, too, everything is going to be just fine.