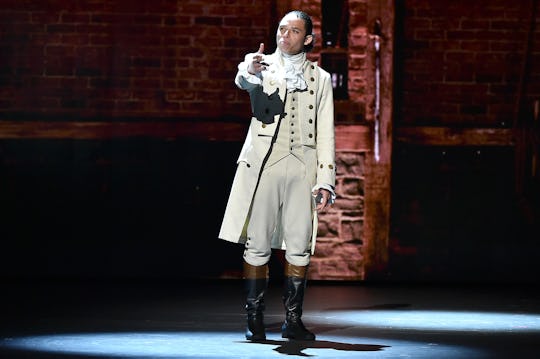 Theo Wargo/Getty Images Entertainment/Getty Images
How Many Tonys Did 'Hamilton' Win? It Wasn't Enough To Break A Record
Though there were many amazing musicals and plays being honored at the 70th Annual Tony Awards, it's fair to say that the spotlight was on Broadway newbie Hamilton. There was a lot of pressure on the Pulitzer Prize and Grammy-winning play, which was nominated for a record-breaking 16 Tonys. But of those 16 nominations in 13 categories, how many Tonys did Hamilton win?
Although the musical about founding father Alexander Hamilton was expected to take home awards for all of the 13 categories it was nominated for, the musical fell short, only taking home 11 of the 13 awards. The popular musical lost out on two categories, Best Scenic Design of a Musical to She Loves Me and Best Leading Actress to The Color Purple's Cynthia Erivo Even though 11 awards is far from shabby, it wasn't enough wins for Hamilton to break a record for Tony wins. Until tonight, the record has been held by The Producers since 2001, when it won 12 Tony Awards.
Hamilton won an array of awards, from behind the scenes awards like Best Costume Design of a Musical and Best Lighting Design of a Musical to the big kahunas like Best Featured Actor in a Musical and Best Featured Actress in a Musical. Additionally, Lin-Manuel Miranda took home the coveted Best Original Score, adding to the Best Original Score and Best Musical he won in 2008 for In The Heights.
And Hamilton didn't just win big at the Tonys. The musical's victories at The Beacon Theatre were praised on social media, helping the musical win the Internet as well.
Although Hamilton may have fallen two awards short of winning a record-breaking number of Tonys, 11 was definitely nothing to scoff at, and fans scrambled for tickets after seeing the snippets of the musical on-screen. (I took a look at StubHub, and I'm not seeing any tickets under $800 — although there's also plenty that go higher than $2,000.)
For those who are sadly forgoing Hamilton tickets in order to pay rent, don't worry. According to Vulture, creator Lin-Manuel Miranda told the public at the New Yorker Festival that there will likely be a Hamilton movie. "You-couldn't-make-it-up filmmakers have been coming to the show," he said. "I have talked to producers about filming this cast before this cast moves on."
Nothing beats live theater, but a movie seems like a pretty decent second option. If a Hamilton film ever did happen, something tells me it just might do pretty well for itself come awards season.