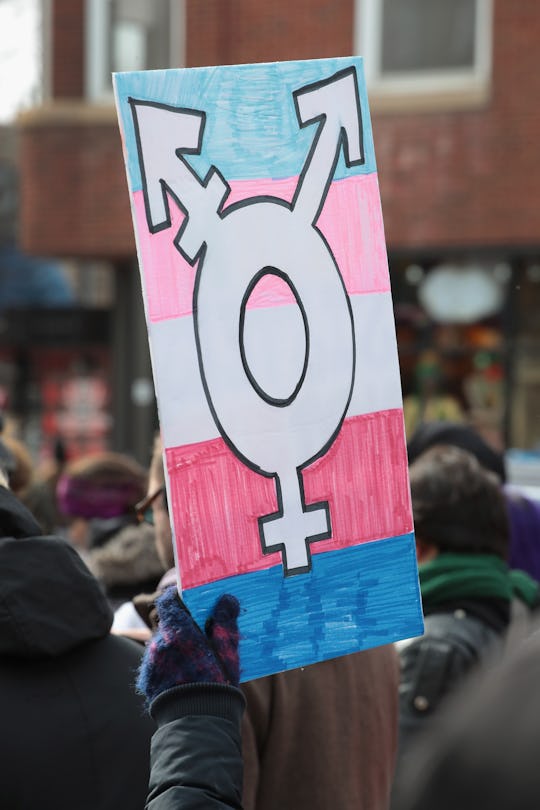 Scott Olson/Getty Images News/Getty Images
High Number Of Trans Women Already Killed In 2017
After two transgender women were murdered within 48 hours of each other in New Orleans over the weekend, law enforcement and the LGBTQ community voiced concerns over the uptick in violence against transgender people, which has risen in recent years. Although last year was reportedly the deadliest on record for transgender people, the latest killings add to an alarming list, and are especially troubling, given that 2017 is only two months old. So just how many transgender women have been killed in 2017, and can anything be done to stop it?
The National Coalition of Anti-Violence Programs (NCAVP) reported that at least seven transgender women of color have been killed this year, with the latest three happening within a week of each other in Louisiana, at the end of February.
According to Think Progress, Chyna Doll Dupree was gunned down on Saturday night outside of a New Orleans shopping center and Ciara McElveen, an advocate for the homeless, was stabbed to death only two days later. The third Louisiana death happened in the city of Monroe when 18-year-old Jaquarrius Holland, whose identity was initially misgendered in several media reports, was murdered during a verbal altercation, according to Mic.
According to CNN, the other four killings took place in Chicago, Illinois; Canton, Mississippi; Sioux Falls, South Dakota; and Toledo, Ohio.
"As of today, NCAVP has already responded to seven homicides of transgender women of color within the first two months of the year," Beverly Tillery, the executive director at the New York City Anti-Violence Project, said in a statement released on March 1. "As a society we can stop this epidemic by hiring trans women of color, making sure they have safe places to live and standing up when we see or hear them being demeaned and attacked and simply by valuing their lives. The moment to act is now."
With 27 killings of transgender people reported last year — nearly all of them transgender women of color — 2016 holds the record for the deadliest year for transgender people in the United States, according to GLAAD, a media monitoring organization for the LGBTQ community. "That's a rate of more than two transgender people killed every month," it said in a November report from last year.
As Think Progress reported, these figures, while alarming, don't represent the whole picture of gender identity-motivated hate crimes "since thousands of law enforcement agencies did not submit any data." Also, the FBI only started publishing statistics on hate crimes against gender-nonconforming people in 2014.
While gathering statistics has been difficult for a long time — and for many reasons — 2017's already-deadly record proves that transgender women of color experience are still disproportionately targeted in hate crimes. By breaking down barriers often put trans women in situations that leave them vulnerable to violence — by offering fair employment and housing opportunities, as well as forming positive relationships with law enforcement — perhaps this pattern could be broken. For now, the uptick in fatalities continues to act as a sobering reminder that change is needed, and soon.