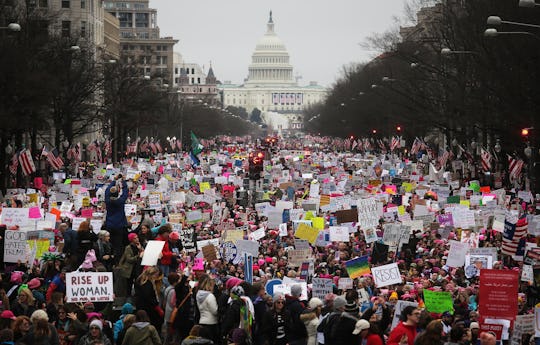 Mario Tama/Getty Images News/Getty Images
Women's Strike Numbers Will Likely Be Strong
March 8 is International Women's Day and, across the globe, women have vowed to participate in "A Day Without a Woman" alongside the International Women's Strike. On Wednesday, they will refrain from work, wear red, or refrain from traditionally "feminine" tasks as a symbol of their solidarity. The idea was inspired by the "Bodega Strike" in New York City and the "Day Without Immigrants" strike that took place all over the United States, which both attracted thousands of participants and made a noticeable impact. So, how many women are striking in the women's strike and what should we expect on "A Day Without a Woman?"
Those behind January's Women's March have come together with the activists behind the International Women's Strike to plan "A Day Without A Woman," and demonstrations are slated to take place in more than 50 countries. The goal of the strike is to highlight the significant role women have in all facets of society and protest against the social injustices that helped President Donald Trump and his administration get elected to the highest office in the land. While the strike will have a presence all over the world, an exact figure of attendees is hard to predict until the day actually happens. But it's safe to assume that the number will be high.
School districts near Washington D.C., for instance, have already announced that schools will be closed on March 8 due to limited staff, according to The Hill. More than 300 staff members had reportedly requested the day off to participate in the strike and, as a result, Alexandria City Public Schools decided to close for the day.
But, solely considering the number of women who don't go into work on Wednesday won't entirely represent every woman who participates in the strike. A lot of women simply can't choose not to work for a day and the strike's organizers recognize this:
Many women in our most vulnerable communities will not have the ability to join the strike, due to economic insecurity. We strike for them. Many others work jobs that provide essential services, including reproductive health services, and taking off work would come at a great social cost. We recognize the value of their contribution.
For this reason, organizers have come up with some alternative actions that will allow all women who want to participate to make a statement that day.
One option is to wear red to show support as it's "a color of signifying revolutionary love and sacrifice" and the color "has a history of being associated with the labor movement," according to the Women's March organizers. Another way to show support is to avoid shopping for one day, with exceptions for small, women- and minority-owned businesses, to remind businesses and the government of the power women have on their profits.
As Vox pointed out, a strike is much more distributed at a local level rather than a huge march and rally like we saw in January, so it's "not clear how the overall impact can be measured" right away.
Come Wednesday, the global solidarity for women's rights and gender equality will be seen in many ways. Whether it be an absence in the office or a red blouse seen on the street, the numbers will undoubtedly be strong.