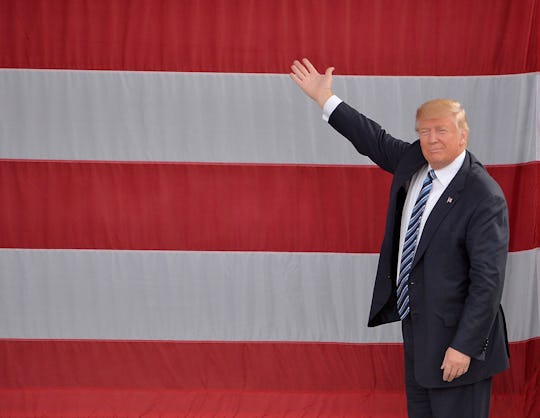 Sara D. Davis/Getty Images News/Getty Images
How Many Women Have Accused Donald Trump Of Sexual Assault Or Harassment? Here's The List
Just one week ago, an 11-year-old hot mic video was released by The Washington Post. In the video, Republican Party presidential candidate Donald Trump makes lewd comments using his star power to get with women. Within this past week, multiple women have stepped forward accusing Trump of sexual assault and harassment. But just how many people have accused Donald Trump of sexual assault or harassment? Unfortunately, the number has continued to grow. Trump has denied all allegations of sexual assault or harassment that have come out recently. He denied most of them during a West Palm Beach rally on Thursday. Trump hasn't been charged with any crime.
On Friday, two women stepped forward to accuse Trump of sexual assault at two separate times. According to CNN, one woman — Kristin Anderson — alleged that Trump had touched her inappropriately in the early 1990s. Another woman, former Apprentice contestant Summer Zervos, claims that Trump "kissed her aggressively" in 2007. These two are just part of what seems to be an ever growing list of people who have accused Trump of sexual harassment and sexual assault. Here are the names of the accusers as of Friday night, according to People and The Huffington Post:
Jessica Leeds
Kristin Anderson
Mariah Billado
Jill Harth
Temple Taggart McDowell
Mindy McGillivary
Rachel Crooks
Jane Doe
Natasha Stoynoff
Cassandra Searles
Summer Zervos
Jennifer Murphy
Trump took to his Twitter on Thursday to respond to some of the allegations that came out earlier in the week.
Trump also released the following statement regarding the allegations by Zervos on Friday:
All of the women who have accused Trump of sexual assault or sexual harassment all have their unique stories to tell. Some allege that Trump's advances were very strong. Others allege that Trump made comments that did not sit well with them, or displayed inappropriate behavior during the wrong time. All claim the attacks happened as early as the 1980s and as recent as 2013 — and all claim that the attacks were not welcomed. It is important to take these allegations seriously — as no potential President of the United States should ever be attributed to this kind of behavior. According to Think Progress, all of these recent accusations come from the strength in numbers. The more women who come forward with allegations, the more women will feel safe enough to come forward with their own stories.
Meanwhile, Trump continues to deny some of the allegations and then hasn't made any statements about others. On Friday, during a rally in North Carolina, Trump went as far as to make fun of the women who have accused him of sexual harassment and sexual assault. At one point during the rally, according to The Huffington Post, Trump suggested to his supporters that his accusers "were not attractive enough to earn his attention." He also told supporters he has no idea who the accusers are and called their stories "fiction." These comments are honestly pretty awful. At a time where so many women are stepping forward and demanding to have their voices heard, someone — along with their thousands of followers — refuse to do so.
There are less than 24 days left until Election Day, and that's plenty of time for women — and people, generally — to weigh these allegations and decide their vote accordingly.