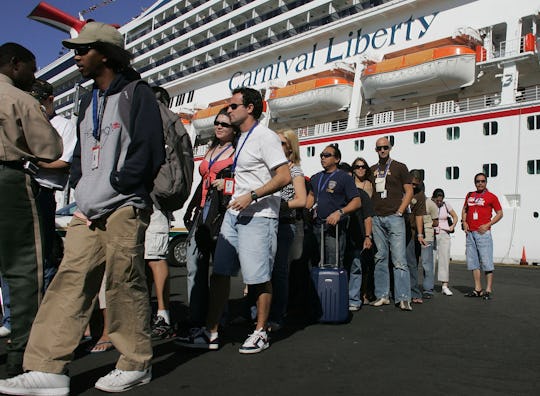 Joe Raedle/Getty Images News/Getty Images
How Many Zika Cases Have Been Found On Cruises? Cruise Passengers Should Take Precautions
Now that spring break season has arrived, many travelers are taking to the high seas for their post-winter holidays. Cruises have always been a popular all-inclusive option for spring breakers, but this season brings its own unique concern: the Zika virus. The spread of the mosquito-borne illness has caused both the U.S. Centers for Disease Control and the World Health Organization to issue travel warnings to many popular spring break destinations — including the Caribbean, Central and South America, and the Pacific Islands. These warnings have travelers wondering: How many Zika cases have been found on cruises?
So far, only one Zika case has been linked to a cruise trip, according to a letter published in the March issue of The New England Journal of Medicine. An 81-year-old man contracted the virus while on a four-week cruise in the South Pacific. The man embarked on his cruise in perfect health; 10 days after his return home, he was admitted to the hospital in a coma, showing signs of brain inflammation known as meningoencephalitis, another neurological disorder linked to the Zika virus. Though the man was discharged after 17 days in the ICU, he didn't reach full cognitive recovery until day 38 of his infection.
Despite the fact that hundreds of cruise ships sail throughout many of the regions currently affected by the Zika virus, the cruise industry isn't worried about Zika. On Friday, Skift — a travel intelligence media company — reported that "No One in the Cruise Industry Is Losing Sleep Over Zika." The piece revealed an observation shared among many leaders in the cruise industry that, despite the travel advisories and warnings, they haven't yet taken a significant hit in sales due to Zika. President and CEO of MSC Cruises USA Rick Sasso told Skift: "I think most of us hardly saw even a blip from cancellations. We really didn't see an impact that was something even measurable."
While Sasso's attitude might seem nonchalant, the level to which cruise lines traveling to affected areas have prepared for customer fallout has been anything but. Many cruise lines traveling to destinations like the Caribbean and Latin America have begun offering refunds as well as altering or waiving cruise cancellation policies due to Zika — especially for pregnant travelers, as Zika poses a unique threat to expectant mothers and their babies. And it's not just about passenger safety: Carnival Cruise Line is one of several travel companies allowing employees to alter their travel schedules to Zika-affected regions.
Even though the reported number of Zika cases contracted on cruise trips only stands at one right now, the risk of contracting Zika becomes higher as you expose yourself to Zika-affected areas. If you already have a cruise booked to one of these affected regions, you've probably already heard from your cruise line or travel agent. If you haven't, it's worth giving them a call to find out your options, as every cruise line is handling Zika-related cancellations and itinerary changes differently.