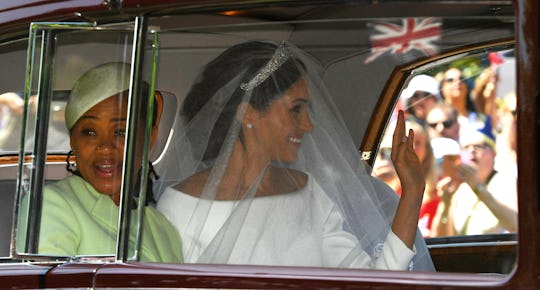 WPA Pool/Getty Images Entertainment/Getty Images
How Meghan Markle Is Just Like Her Mom, Doria Ragland, Will Come As No Surprise
A lot of young women probably don't want to be told that they are turning into their mothers, but it doesn't seem like the Duchess of Sussex is one of them. In fact, according to a recent interview with People, a friend of the new royal has revealed that there a few ways in which Meghan Markle is just like her mom and while they aren't totally surprising, they are a huge compliment.
It may have been her daughter who was in the spotlight, but on the day of the royal wedding Markle's mother, Doria Ragland, received plenty of attention. Divorced from Markle's father, who couldn't attend due to heart surgery, according to Harper's Bazaar, Ragland sat alone at the chapel, with enough presence, dignity, and joy for any three people. It's that strength of character that a close friend of Markle sees present in both mother and daughter.
"Doria is classy, chic, and confident, but not unapproachable," Daniel Martin, Markle's friend and makeup artist, told People. A royal family friend who met Ragland at one of the wedding's reception parties also commented that "she has a softness, but I detected a steely core to her. She has come through a hell of a lot," according to People.
Ragland raised Markle as a single-mother after divorcing when her daughter was 6, according to Town & Country. She works as a wellness counselor for Didi Hirsch Mental Health Services in Los Angeles, according to the Daily Mail, and on the day of the royal engagement announcement, she was on her way to work at a low-income apartment complex when the paper caught up with her for a comment.
That socially conscious heart rubbed off on young Markle, who grew up to be heavily involved with humanitarian outreach, according to Harper's Bazaar, in addition to her acting work. She started volunteering in soup kitchens when she was just 13 years old, according to The Sun. In a 2016 post on her now-defunct blog, The Tig, Markle described how it was her mother who taught her to view the disadvantaged as people. "My mother raised me to be a global citizen," she wrote, adding:
With eyes open to sometimes harsh realities. I just have been about ten years old when we visited the slums of Jamaica. I have never seen poverty at that level and it registered in my glazed brown eyes. "Don't look scared, Flower [her mother's nickname for her]," she said. "Be aware, but don't be afraid."
It's not the first time she raved about her mother. Town & Country detailed another post on The Tig titled "Love Letter". In it, Markle described Ragland as having "Dreadlocks. Nose ring. Yoga instructor. Social worker. Free spirit. Lover of potato chips & lemon tarts." Markle herself can't have fallen far from that tree, and those may be the traits that attracted Prince Harry — known as a bit of a rebel himself — to her.
All those lessons seem to have stayed with Markle and in 2017, she listed her mother as one of 10 women who most influenced her in an interview with Glamour, explaining:
My mom's a yoga instructor, but she does social work, as well, and she works specifically with the geriatric community. For me to watch this level of life-long sensitivity to nurturing and caregiving, but at the same time my mom has always been a free spirit. She's got dread locks and a nose ring. She just ran the LA Marathon. We can just have so much fun together, and yet, I'll still find so much solace in her support. That duality coexists the same way it would in a best friend.
She's not the only one who finds Ragland to be pretty amazing. Perhaps even more noteworthy, Prince Harry is a fan of his mother-in-law. During the couple's engagement interview with the BBC, the prince said, "Her mum's amazing!"
Should Markle decide to become a mother herself, it's incredible that she has this strong and loving example to look to. And, if Ragland is like most mothers out there, she's probably more than ready to become a grandmother. With roots like these, those will be some lucky, lucky royal children.