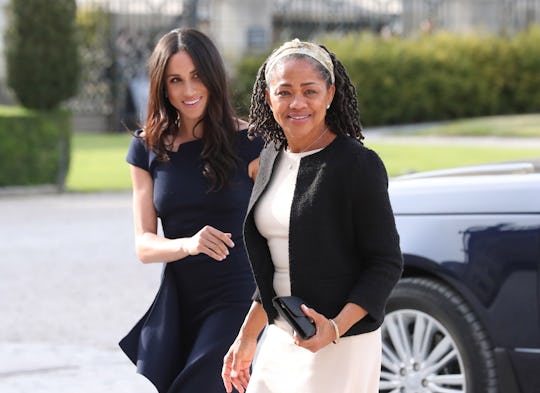 WPA Pool/Getty Images Entertainment/Getty Images
Doria Ragland Was A Classic Mom During Her Dress Fitting For The Royal Wedding
It's no secret the Duchess of Sussex's mom, Doria Ragland, is pretty incredible. From Ragland's unwavering support of her daughter to her inspiring life story, the 62-year-old social worker has a lot of great qualities. Making Meghan Markle's mom even more lovable? Doria Ragland was every mom with her designers for the royal wedding.
Now that five months have passed since the Duke and Duchess of Sussex's May wedding, additional details about the special day are starting to surface. Case in point: Ragland treated the designers who made her mother-of-the-bride ensemble to snacks during a fitting.
The designers — Laura Kim and Fernando Garcia, the co-Creative Directors of Oscar de la Renta — revealed the cute detail in an interview with Buro 24/7. Kim and Garcia shared that they were first contacted by Markle herself to discuss dress details, and then they flew out to Ragland's home in Los Angeles for a fitting.
"Yeah. And then we flew to L.A. to meet Doria and she brought us snacks to the fitting," Garcia recalled, as Buro 24/7 reported.
Kim then chimed in: "She's so sweet. Her snacks were so cute too."
So, did Ragland bake cookies or whip up some cupcakes for the famed designers? Nope.
"They were healthy snacks because she's a runner," Garcia said, according to The Cut.
"Yeah it wasn't like cookies, it was very thought out," Kim added.
Although I'm dying for more details about these snacks (did it involve an elaborate fruit plate? A throwback treat a la bugs on a log?), this sweet detail about Ragland is satisfying enough.
Essentially, Ragland bringing snacks to her royal wedding dress fitting is as #MomLife as it gets. Ragland's cute move reminds me of my own mom, who once brought homemade burritos to a concert we attended a few summers ago. It was unexpected and a bit extra, but also much appreciated.
Ragland's supporters probably aren't surprised by her sweet gesture, as she has demonstrated her thoughtfulness more than once before. Want some proof? Look no further than Ragland's behavior at the Duchess of Sussex's Together: Our Community Cookbook book launch in September.
"It's amazing. I'm just as excited as you are," she said to chefs at the event, according to Yahoo. "I'm so glad I can put the face with the recipes. I'm going to tell everyone, I met her [each of the cooks]! I'm going to make everything, I'm serious."
Not to mention, Ragland said she was "head over heels" proud of Markle. Aww.
There's a good chance Markle will follow in Ragland's sweet footsteps because the two are reportedly very similar.
"Doria is classy, chic, and confident, but not unapproachable," the Duchess of Sussex's close friend and makeup artist Daniel Martin said, according to PopSugar. "Meghan gets a lot of that from her mother."
Yep, I can definitely see Markle pulling a bunch of classic mom moves herself down the road. The royal baby-to-be is one lucky kid.
Speaking of the royal baby, it will be interesting to see if Ragland brings any snacks for the delivery room nurses or hospital staffers when the special day arrives. If Ragland's past actions are any indication, the answer is probably yes.