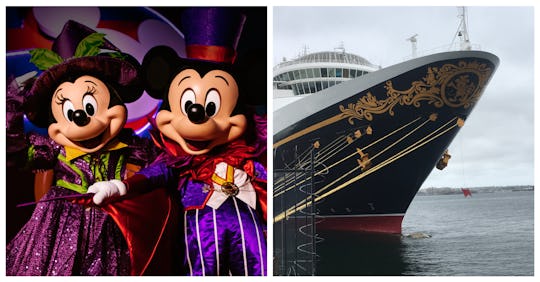 DIsney; photo courtesy of the author
Here's What A Family Of 4 Living On $140,000 Spent On A Disney Cruise
Raising a child supposedly costs you a quarter of a million dollars, but it can honestly be more daunting to face the idea of spending $80 on bottle nipples in a single month. Expense Report gives us a look into the spending, scrimping, and wishing that defines parenthood, from what moms spend on birthdays, to childcare, to sleep, to self-care (we wish!), and beyond.
How much does a Disney cruise really cost for a family of four? This family took a three-day cruise out of Southern California, and felt they came out more than ahead on memories and souvenirs.
Family: A mom and dad in their thirties
Location: Southern California
Annual Family Income Aproximately $140,000
Number of Children: Two
My husband and I would someday like to attempt traveling to Europe with our children, and cruises appear to be the best way to do such a thing. Yes we could fly and endure the 14-hour flight, and then travel by train or take short flights to other destinations, but cruising seems to be more affordable and enjoyable. This Disney Cruise was a way for us to dip our toes into traveling by cruise ship to determine how well the kids, and myself, did at sea.
Since it's been six years since my husband and I took a cruise, I wanted to try something short, since I tend to get seasick and was not sure if my girls would also feel nauseous while at sea. I had my heart set on taking the girls on a Disney Cruise for more than a year.
Three-Day Disney Cruise: $ 2,119.36
Before having kids, we traveled on several cruise lines and did not feel those trips were as kid friendly as we'd like them to be. So we agreed to splurge on a Disney Cruise and surprise the girls the day before the trip. I mean, we go to Disneyland at least twice a year and that already costs approximately $500-$600, depending on whether or not we get the Park Hopper tickets. And we usually do, since Disneyland gets packed.
Travel Items : $56.42
We didn't need to purchase much for the trip since the cruise included food, drink and snacks. I bought some toiletries and medication such as Dramamine for myself and the kids, and was able to get prescribed a seasick patch from my doctor just in case I needed it. I also bought the girls new bathing suits since they would be in the pool.
Gas: $40.00
We use my car for everything, which means it always needs gas. We did not fill up the tank since I had enough to get us from our city to San Diego, where the boat was to depart.
Parking for Three Days: $52.00
OK, this surprised me. I knew we'd have to fork over some cash for parking, but $52? We drove around for a bit trying to find the best pay-per-day rate but nothing really seemed that much better than the other so we parked a few blocks away from the harbor.
Gratuity and Onboard Purchases: $.03
We had $100 in cruise credits and the only purchase we made onboard was a $3 bag of popcorn, so the credits went toward gratuity, which was awesome! At first I was bummed that I did not book some extracurricular activities for the girls, such as the pirate or mermaid makeovers, but once we were onboard it didn't even matter. There was so much for them to enjoy at the kid's club and at the pool, and the characters and princesses made appearances so they didn't even care that some kids were decked out in everything glitter. Plus paying only $0.03 out of pocket for this part of the cruise was awesome.
Souvenirs: $44
Here's the thing, when you travel with kids they are going to want stuff. I've been to Ensenada several times before and never purchased more than a meal and a magnet, but this time I was purchasing dresses, magnets, a toy puppy and toy guitar, kinder eggs and some cervezas for my husband. We hoped to get some food off that boat, but by the time we were down touring the marketplace we were ready to head back for lunch and swimming.
Total Cost of Three-Day Disney Cruise: $2,321,81
My kids LOVED the Disney Cruise. This was the first time they were able to order whatever they wanted, including deserts, and their introduction to bunk beds. The shows were entertaining, the crew was so patient and accommodating, and the food was freaking delicious. Yes we could have traveled on a another cruise line for a cheaper price, but I'm so glad we didn't. I hope to book another trip with Disney only I'll need a couple years to save up for that trip.