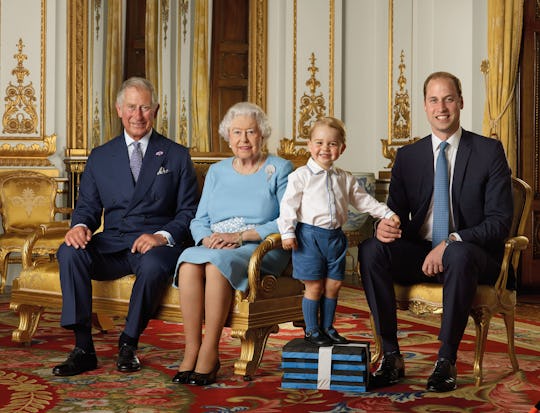 Handout/Getty Images Entertainment/Getty Images
How Much Are Prince George Stamps? They Will Make Paying Your Bills More Adorable
Getting the mail is about to get a whole lot cuter — at least if you're in the United Kingdom. The UK's Royal Mail released a new set of stamps to honor Queen Elizabeth II's 90th birthday, which was Thursday. To commemorate the special occasion in stamp form, the queen posed for portraits with three generations of her heirs, including Prince Charles, Prince William, and Prince George. It probably goes without saying that little Prince George stole the show. So, how much are Prince George stamps?
According to the Daily Mail, if you live in the UK you can purchase the special edition stamps at your nearest Royal Mail post office. One sheet will get you all four stamp designs, and it will cost the regular price for First Class stamps, £2.56. Unfortunately you can't buy just the Prince George stamps — they are a set, so you must by all four to get his sweet, cheesing face. If you're not in the UK, don't fret. You can order the stamps directly from the Royal Mail website. They are the same price (which is about $3.68), but you will have to pay for shipping.
In addition to the family portrait stamps, the Royal Mail is also releasing six stamps commemorating "significant achievements of HM The Queen over the years," according to the press release. The featured achievements include the queen with her father, attending the state opening of Parliament, the Queen with her children Princess Anne and Prince Charles, the Queen visiting New Zealand in 1977 during her Golden Jubilee, the Queen with her husband, Prince Philip, and her meeting with Nelson Mandela in 1996.
To kick off the celebration, the queen visited the Royal Mail delivery office in Windsor on Wednesday. They honored her life's many milestones and presented her with a framed set of the special-edition stamps.
The lucky photographer chosen to shoot the portraits of the royal family was Ranald Mackechnie. According to the Telegraph, the preparations for the shoot were a long and involved process. Mackechnie was impressed with Prince George's behavior during the shoot, despite his age (he will be 3 in July). He said,
He was absolutely charming, as you can see from the picture. You only have a short window of opportunity with small children, but Prince George was on good form and everyone seemed to enjoy seeing him enjoy the day. He was fascinated by my lights and all the kit, and he was quite happy standing on the blocks. I took maybe 80 or 100 shots, but when I saw this one I knew straight away that was it.
Prince George is a natural in front of a camera, which isn't a bad skill for a future king. Get ahold of his first official portrait while they last.