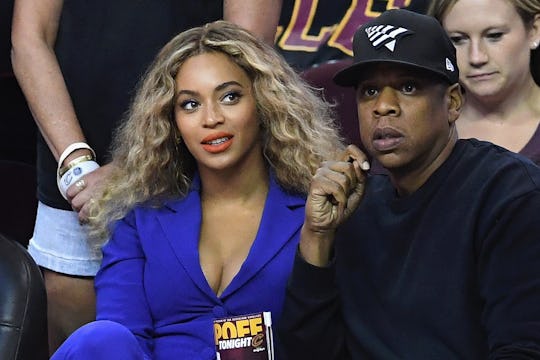 Jason Miller/Getty Images Sport/Getty Images
How Much Are Private Birthing Suites At Lenox Hill?
As the world waits breathlessly for the arrival of Beyoncé's twins, fans are already swarming with questions about how birth number two will go for Queen Bey. When Blue Ivy was born, reports swirled that Beyoncé had secured not one, but four posh private luxury birthing suites in New York City's Lenox Hill Hospital. Just how much are private birth suites at Lenox Hill? Let's just say, I'm pretty sure these primo push palaces aren't covered by insurance.
You won't find any specific price list for these private birthing rooms on the Lenox Hill Hospital website. In fact, the only mention is a brief sentence instructing interested patients to call a specific person if they are interested in Lenox Hill's "executive suites." When they won't even list the prices on the website, you know that those rooms cost a hefty chunk of change.
According to TODAY, these luxury birthing rooms at Lenox Hill include plasma TVs, posh linens, and furnishings, and even a 24/7 concierge service that can arrange everything from mani-pedis to gourmet dining — including rack of lamb. (Suddenly, that hospital food turkey sandwich I ate at 2 a.m. after the birth of my son doesn't feel so spectacular anymore.) But just how much do these rooms set you back, exactly?
Representatives for Lenox Hill Hospital didn't immediately return Romper's request for comment — or prices. However, according to a March 2013 news report from FOX 5 News in New York, a deluxe private room at Lenox Hill Hospital costs about $850 a night. A premium deluxe birthing suite at Lenox Hill — which includes a sitting area and kitchenette — will set you back a cool $1,400 a night. But what about Queen Bey's room — because you know she won't settle for anything but the best? Her "Park Avenue studio," as the report described the space, goes for an insane $1,700 to $2,400 a night.
Well, that seems perfectly reasonable.
Of course, there's no guarantee that Beyoncé will deliver at Lenox Hill for her second birth. According to Allure, the Knowles-Carter family recently rented a home just minutes away from Cedars Sinai Hospital in Los Angeles, California. The Queen of Slay is of course, silent on the whole matter.
Beyoncé's twins birth is filled with as much mystery as the birth of Blue Ivy, but there's no doubt it won't be as luxurious. And, in the case of twins, Beyoncé has probably ordered the glam and luxury for her newborn twins two times over.