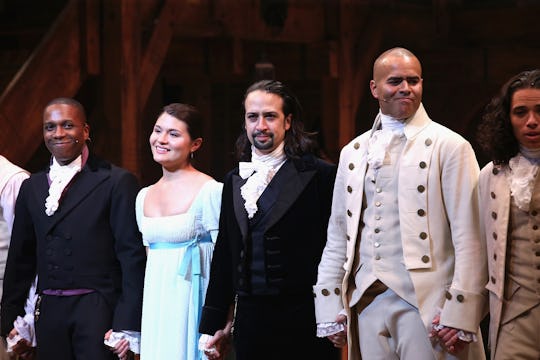 Neilson Barnard/Getty Images
How Much Are Tickets For 'Hamilton'? An Insane Amount Of Hamiltons
The smash hit musical Hamilton has taken Broadway by storm since it first opened at the Richard Rodgers Theatre in August 2015. Since then, musical theatre fans and history buffs alike have been clamoring to see the show starring Lin-Manuel Miranda in the titular role — but they've got a long wait ahead of them with performances sold out as far as eight months from now. But even if you manage to find a seat, chances are, be ready for some sticker shock. How much are tickets for Hamilton?
Well, if you're looking for first available (which, as of now, would be resale tickets to a Sunday matinée on Sep. 11), it's going to set you back at least $311 — for rear mezzanine seats. You know, the cheap seats. Front mezzanine seats for the same performance average $788 a ticket and orchestra seats currently average $851 per ticket. Yes, that's for a single ticket.
Don't worry, if you're craving Hamilton like apparently the rest of the modern world right now, you can watch the original Broadway cast perform their opening number live at the Grammy Awards on Feb. 15. And let's face it: for most fans of the award-winning musical, the Hamilton performance at the Grammys will probably be the only way to reasonably afford to see the show at all. Did we mention ticket prices are insanely expensive and nigh impossible to get right now?
In fact, the ticket crisis has gotten so out of hand, the show has been forced to acknowledge it on Hamilton's official website. In "A Note From the Producer of Hamilton," producer Jeffrey Seller urges fans to seek legitimate ticket sellers and resellers, and that "the wait will be worth it." The note reads:
When Stephen Colbert hosted the Kennedy Center Honors a few weeks ago he asked in his opening monologue, "Can anyone get me tickets to Hamilton?"
Here's the deal. I know you want to see Hamilton soon. We have a new block of tickets on sale.
I know it's tempting to get tickets any way you can in order to see it soon. But that's risky! There are many people and sites that are selling wildly overpriced, and in some cases, fraudulent tickets. HamiltonBroadway.com is the safest way to get real tickets at regular prices. You can also visit our box office or try Broadway.com.
Yes, you will have to "wait for it." But I promise: The wait will be worth it.
Let's say you manage to score a single ticket to that September matinée and you want to actually have a good view, but don't want to "splurge" on orchestra seats, so you go for those "cheaper" front mezzanine seats averaging $788 a pop. That's only 78 actual Hamilton bills! Seems totally reasonable.
Here is a list of other things you can buy for $788:
I think we can all agree:
Or! You could see less than 2.5 percent of the entire musical for free at the Grammys. Hamilton will open the 58th Annual Grammy Awards at 8 p.m. Eastern on Feb. 15 on CBS. So don't forget to set a reminder to watch it live or DVR it for later — because who knows when you're ever going to get to see Hamilton in real life.