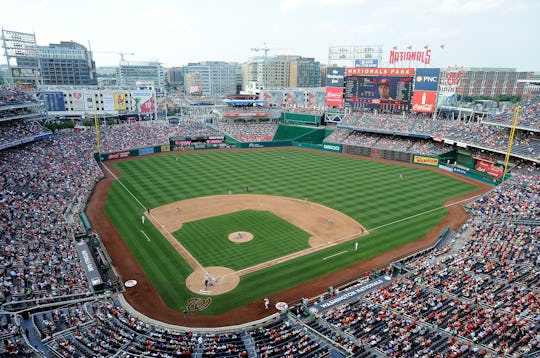 Greg Fiume/Getty Images Sport/Getty Images
Congressional Baseball Game Tickets Are Surprisingly Affordable
This week's tragic shooting in Alexandria, Virginia, drew attention to a tradition that many Americans who live far away from Washington, D.C., don't know that much about: the annual Congressional Baseball Game for charity. In the wake of the tragedy, ticket sales are apparently spiking to show support. Others have made it a yearly tradition with their families. So how much are tickets to the Congressional Baseball Game anyway? The game is held at National's Park, which seats just over 40,000. The stadium also released extra seating for the event after the shooting, so over 20,000 have been sold as of Wednesday afternoon. That translates to more than $1 million for charity, according to the Congressional Sports for Charity Facebook page.
Tickets aren't all that expensive. General admission is $10, and reserved seating is $15. To park, it costs $11. Not bad for a ballgame, even if it is just a bunch of legislators running around. It's the one time that Congress can actually agree on something — and let the referees make the calls, of course — so it's definitely worth watching.
If you can't make it to the stadium, the game will be covered by major networks this year and on C-SPAN, according to the Facebook page.
You can donate directly to the Congressional Sports for Charity page if you can't buy a ticket but want to show some love.
Although the game supports tons of great charities, the Capitol Hill Police Memorial fund has been added since the shooting. Other charities on the beneficiary list are the Boys and Girls Clubs of Greater Washington, the Washington Literary Center, and the Washington Nationals Dream Foundation. So it's not really true that Congress doesn't do anything.
The mood at the game might be a little more somber than in years past, given the shooting on Wednesday. Four people were shot and are still hospitalized. House Majority Whip Steve Scalise, who was the only congressman with a security detail that morning, is undergoing his third surgery due to a shot to the hip.
According to a statement from Medstar Washington Hospital Center, the bullet fractured bones and went through some internal organs. Scalise also suffered from severe blood loss and had blood transfusions. The third surgery is routine for victims of gunshot wounds, where doctors go in to check their work.
The other victims were police officer Crystal Griner, who was shot in the ankle. Matt Mika, a Tyson Food lobbyist is in intensive care with chest woulds, and a staffer, Zachary Barth, was shot in the leg, but has since been released from the hospital. Texas Rep. Roger Williams twisted an ankle during the shooting and another Capitol Police officer, David Bailey, sustained a minor injury during the shooting.
It has been a scary and sad time since the shooting, but people are coming together, as they always do, in the face of tragedy. Tonight will be a good way for Congress to not just raise money for charity, but show the country that unity in politics is important.