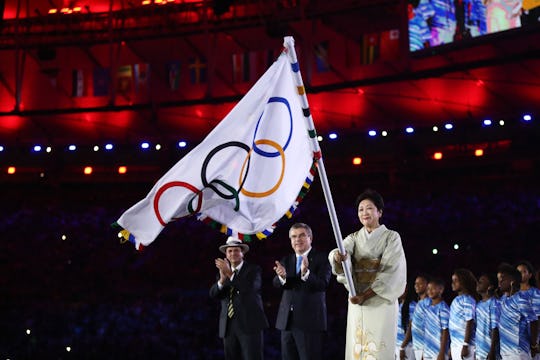 Cameron Spencer/Getty Images Sport/Getty Images
How Much Are Tickets To The Tokyo Olympics? You Have Four Years To Plan Your Trip
The 2016 Summer Olympics in Rio has now come and gone after Sunday night's lively carnival-themed closing ceremony, wrapping up 16 days of impressive athletic achievement from competitors all over the world. But as with every Olympic closing ceremony, the celebration also marked the official beginning of the countdown to the next Summer Olympics, set to take place in Tokyo, Japan in 2020. There might still be a long wait before the next wave of Olympians begin competing for gold, but hey, it's never too early to start planning, right? How much are tickets to the Tokyo Olympics? Official details are scarce, and probably won't be properly announced for a while, but here's what you can likely expect.
According to The Telegraph, Japanese newspaper Nikkei Shiumbun has noted that most tickets for events at the Tokyo Olympics will cost about ¥7,000 — or about $70 USD based on the current exchange rate. Setting your sights on attending the opening ceremony? That will likely set you back anywhere between ¥25,000 and ¥150,000, or around $250 and $1,500 a ticket. But if that's too steep for you, there may be a silver lining. According to TrulyTokyo.com, "a significant percentage of tickets will cost less than ¥5000," or about $50, though it's unclear what events they'll be for.
Official ticket sale dates haven't yet been released, and realistically, that might not happen for at least another year or two (ticket information for the Rio Olympics wasn't announced on the Olympic.org website until September 2014). But residents of Japan are expected to have the first chance at purchasing event tickets when Tokyo 2020 tickets do go on sale, and if the timeline is similar to Rio's that could happen in early 2019. According to the official Olympic Ticket Guide from the Rio Olympics, Brazilian residents over 18 were eligible to apply for the first random ticket draw in March 2015, with the last batch of domestic tickets being sold in January 2016.
As is expected to happen in Tokyo, a large portion of tickets in Rio were also sold for discounted rates — almost four million tickets were sold for about $22 USD or less. Half-price tickets were also available to Brazilian residents over 60 years of age, wheelchair users and those with eligible disabilities, as well as students and teacher of Rio de Janeiro's municipal public schools.
In addition to the web, Japan residents will also likely be able to purchase their tickets through local companies, like travel agencies, or even at vending machines in convenience stores, according to TrulyTokyo. But what if you don't live in Japan? Tickets for non-residents around the world will be available for purchase through select Authorised Ticket Resellers (ATR) — and in the United States, that will most likely be CoSport (you can already sign up for notifications for Tokyo 2020 through the CoSport website if you really want to be on the ball).
According to CNN, Olympic organizers are promising innovation in Tokyo, with a particularl emphasis on impressive technology that will wow the crowds. That could very well mean robots and driver-less cars (!), along with smartphone apps that can provide instant translation from Japanese, and all sorts of other cool tech advances. And if the reaction to the Tokyo 2020 preview in Rio is anything to go by, people are totally psyched about it. One of the most notable moments of the entire night? When Japanese Prime Minister Shinzo Abe appeared on stage dressed as Super Mario, and promptly fired up the entire Internet.
In other words, it's probably time to start saving your pennies, because it sounds like pretty much everyone is going to be dreaming of a trip to Tokyo in summer 2020.