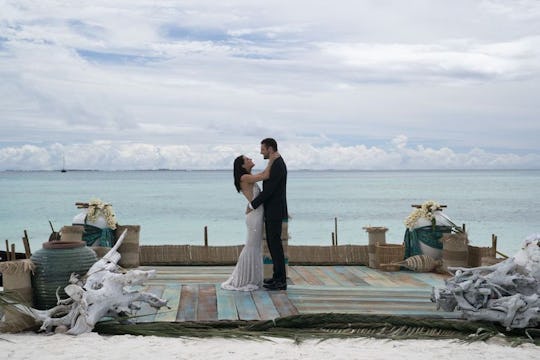 Paul Hebert/ABC
Becca's Engagement Ring May Be The Most Expensive 'Bachelorette' Ring Yet
During The Bachelorette finale, Becca chose the love her life, Garrett Yrigoyen, and he came with a gorgeous engagement ring. Though fans may not have been all that happy with who got the final rose, most can agree the ring is gorgeous. But how much did Becca's engagement ring from Garrett cost?
Although the official price point hasn't been revealed yet, the ring was definitely pricey. Neil Lane, who designs the engagement rings in The Bachelor franchise, told People magazine that he wanted this ring to be extra special for Becca.
"I wanted to make a ring that was totally different than anything I had done for the show before," Lane said. "I wanted to create something special for Becca, especially considering everything that happened with Arie."
Thus, although most of the rings Lane has designed for the franchise have been in platinum, the ring Garrett picked out for Becca was 18-carat gold, and has nearly four carats of diamonds.
Lane continued on to say, "I wanted it to be elegant, quite glamorous and I wanted to use gold. It's a whole different concept — it has three oval stones, which helps celebrate both of them as a couple and the third diamond represents their future together."
Over the years the engagement rings on The Bachelor franchise have always been lavish, but they've gotten more and more extravagant with each passing season. According to E! News, the rings have ranged from $50,000 to almost $100,000, and those are just the rings used on The Bachelor. Prior to Nick Viall's season, the most expensive ring was given to Lauren Bushnell by Ben Higgins. The 4.25 carat ring was almost $100,000 and it was the biggest ring to be given on the series to date. It seems Garrett topped that with his ring to Becca, meaning the ring is probably well over $100,000. Hopefully, Becca and Garrett's relationship lasts longer than Lauren and Ben's. Lane seems to think they have a good chance.
"You could tell Garrett was genuinely smitten, and just so excited and enthusiastic to be with Becca," Lane told People magazine. "He was funny, sweet, and charismatic. He took the process of picking out the ring so, so seriously and seemed to enjoy it. He really studied them thoroughly and had a grin on his face, from ear to ear, the whole time."
Although Becca and Garrett may be happy in love, fans of the show certainly are not. Early into the season, news broke that Garrett had liked a number of social media posts that were very controversial. One of the posts claimed Parkland shooting survivor David Hogg was actually a crisis actor while another made offensive jokes about boys who wear makeup. It was originally former Bachelor contestant Ashley Spivey who tweeted about about the posts.
Garrett then made a new Instagram account where he apologized in a statement, saying, "I am sorry to those who I offended, and I also take full responsibility for my 'likes' on Instagram that were hurtful and offensive." Becca also did an interview with E! News, and in response to a question about Garrett she said, "Everyone is entitled to their own opinions, and at the end of the day I wanted to go on this journey to open up myself and have people see my love story unfold, and I would hope that they would stay open and respect me but also stay open and respect these 28 guys that went along on the journey with me."
Becca's seeming defense of Garrett led many to believe he was the man she chose to marry, and they were right. Though most people are upset with Becca's choice because of Garrett's controversy, there are others who are hopeful that perhaps when Garrett apologized he meant it. Only time will tell.