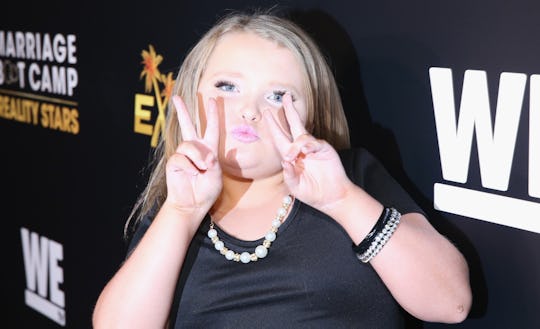 Jonathan Leibson/Getty Images Entertainment/Getty Images
Here's How Much Honey Boo Boo Made Per Episode On Her Show
Who remembers Honey Boo Boo? In her heyday, she was a breakout star from TLC's Toddlers & Tiaras, and she later went on to have her own reality television show, Here Comes Honey Boo Boo, on the same network. Well, she's 12 years old now, and for such a young star, she's likely doing pretty well for herself financially, especially considering how much she made per episode on both her reality show series.
For anyone who somehow completely avoided the cultural phenomenon that was Honey Boo Boo, let's do a quick overview. The show Toddlers & Tiaras is about "the cutthroat world of child beauty pageants," according to TLC. And that's where Alana Thompson — also known as Honey Boo Boo — got her start. But she later had her own spinoff series, Here Comes Honey Boo Boo, which was later canceled but eventually aired the final episodes as part of a series that TLC dubbed Here Comes Honey Boo Boo: The Lost Episodes.
Here Comes Honey Boo Boo was canceled in 2014. At the time, TLC released a statement that read, according to Us Weekly:
TLC has cancelled the series Here Comes Honey Boo Boo and ended all activities around the series, effective immediately...Supporting the health and welfare of these remarkable children is our only priority. TLC is faithfully committed to the children's ongoing comfort and well-being.
But before the show was canceled, Honey Boo Boo reportedly made about $15,000 to $20,000 per episode, according to People. That's some serious money for a young girl, and Honey Boo Boo/Thompson hadn't even hit double digits in age when she was making that impressive paycheck.
However, Thompson apparently never really saw any of that money. It was placed in a trust account by TLC, and she would just receive a statement informing her of the amount she had made, according to People. So Honey Boo Boo is going to come into some serious cash one day, as long as the money actually ended up and stayed in that trust.
Although the show may be over, Honey Boo Boo still has her fans, and she keeps up with them thanks to social media, according to The Sun. She often posts photos and updates on her official Facebook page, which reportedly has more than one million followers.
Thompson may be worth as much as $800,000, according to Celebrity Net Worth. But that source also claimed that Honey Boo Boo made $50,000 per episode for Here Comes Honey Boo Boo, which is quite a bit higher than other estimates.
By comparison, the Duggar family, which had a show on the same network as Thompson, likely earned between $25,000 and $40,000 for four or five days of work, according to reality producer Terence Michael and The Huffington Post back in 2012. And during an interview with Larry King on CNN in 2009, Jon Gosselin of TLC's Jon & Kate Plus 8 said he and his wife at the time, Kate, earned $22,500 per episode, which is more consistent with the figures Honey Boo Boo was likely earning.
But what about Toddlers & Tiaras, the show where Thompson got her start? The kids on the show don't actually get paid, according to Radar Online. An "insider" said, according to the outlet:
Toddlers & Tiaras does not pay their kids. They survive off of finding unique stories that draw in viewers.
They don't even pay for the families' entry fees into the pageants. But the moms do it because it's good exposure for their little girls and that's exactly what they want.
Other information about earnings on that show is scarce, but the idea that parents have their kids participate more for exposure than money is not totally out of the realm of possibility.
But in any event, when she was on her hit reality show, Honey Boo Boo probably made some decent money per episode. It might not have been in the millions of dollars like some stars rake in, but she probably earned a decent paycheck that will hopefully be used wisely once the teenager finally gets a hold of it.
Check out Romper's new video series, Romper's Doula Diaries:
Watch full episodes of Romper's Doula Diaries on Facebook Watch.