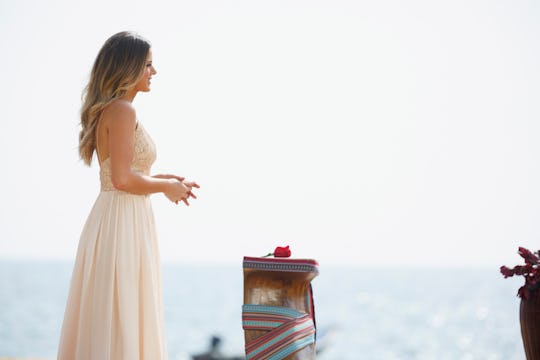 Matt Klitscher/ABC
How Much Did JoJo Fletcher's Engagement Ring Cost On 'The Bachelorette'? A Pretty Penny
Engagements on The Bachelor and The Bachelorette are famous for being completely over the top, and staged by producers. And this season is no different. It's a moment that we all look for in the finale — that big ring reveal. So how much did JoJo's engagement ring cost? It wasn't cheap by any means, but it definitely follows suit with past seasons of the Bachelor and Bachelorette.
According to Life and Style at least, her Neil Lane diamond ring is worth $80,000, but don't worry, JoJo's new fiancé didn't have to shell that out himself. The show reportedly buys the ring, which is usually astronomical in price. The ring Ben Higgins offered to Lauren Bushnell reportedly cost an astounding $90,000. Robby and Jordan both met with Neil Lane to choose a ring from among an impressive selection of stunners. Both rings the men chose were absolutely gorgeous, but sadly JoJo is only allowed to keep one of them. Before Robby could get down on one knee and propose, she stopped him because she didn't want to take this moment from him. Finally ready to propose after a last minute call to her parents, Jordan offered JoJo the incredible ring, and she accepted.
Whatever else you say about him, Jordan Rodgers has excellent taste in jewelry. It was hard to see at the time, but when JoJo emerged at the After the Final Rose show, you could definitely see just how enormous it was. Almost as large as her huge dangly earrings.
It had been predicted that JoJo was going to pick Jordan, but it became even more clear in the final episode. Even after hearing her family say they preferred Robby, and even after Jordan failed to officially ask her parents for her hand in marriage, JoJo seemed pretty committed to her choice. It wasn't totally certain, however, that Jordan was going to propose until the very end. Before going to pick out the ring, he still seemed hesitant. Finally, of course, he made up his mind, called JoJo's parents, and selected this incredible diamond for his bride-to-be.
Though still reeling from her breakup with Robby just a few minutes earlier, JoJo was thrilled to accept, and is now a happy, engaged lady.