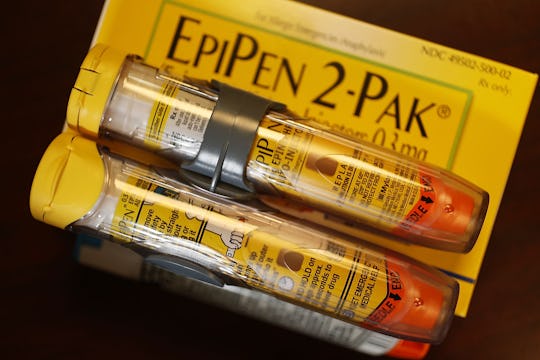 Joe Raedle/Getty Images News/Getty Images
How Much Did The EpiPen Price Increase? It's More Than Doubled In The Last 3 Years
Pharmaceutical company Mylan has come under fire in recent days after it came to light that the company was attempting to once again raise the price of EpiPen, an epinephrine auto-injector that can mean the difference between life and death for those with severe allergies. Price increases aren't all that surprising; what's troubling is how much the EpiPen price increased, which is about 600 percent of its original price when Mylan bought the rights to the injector from Merck in 2007. Romper has reached out to Mylan regarding the price increase, and did not immediately receive a response.
The EpiPen two-pack cost about $100 back then, and prices rose steadily for a few years, which is to be expected. But after agreeing to allow for a generic competitor in 2012, according to The New York Times, the increases began to grow out of control as the company prepared to lose its monopoly on the drug. It's common for drug companies to milk their products in their last few years of exclusivity, but the degree to which Mylan did so is out of the norm. The price went from $265 to $609 in the last three years, emboldened by their only competition, Sanofi's Auvi-Q, being pulled from the market in 2015. Once Teva's generic competitor was unexpectedly rejected by the Food and Drug Administration earlier this year, Mylan had the market cornered once again.
Mylan released a statement on Thursday that reads, in part:
Mylan has worked to help patients with commercial insurance pay as little as $0 for EpiPen® Auto-Injector using the My EpiPen Savings Card®. In 2015, this resulted in nearly 80% of these patients paying nothing out of pocket for their EpiPen® Auto-Injector. However, as the health insurance environment has evolved, driven by the implementation of the Affordable Care Act, patients and families enrolled in high deductible health insurance plans, who are uninsured, or who pay cash at the pharmacy, have faced higher costs for their medicine.
The statement goes on to detail steps the company is taking to improve access to EpiPens, including offering $300 discount cards, expanding eligibility of its discount program, offering direct sales to patients, and providing schools with free product. The full statement can be seen on its website.
According to Bloomberg, EpiPen only delivers about $1 worth of epinephrine. Mylan doesn't hold the patent on epinephrine, but rather the injection device itself, which is why it's been able to hold a patent for so long. The Times reported that the patent will expire in 2025. While raising prices, Mylan was also able to raise sales by marketing the device to schools and hotels, or as Mylan spokeswoman Nina Devlin referred to it in a statement obtained by Bloomberg, "advocating for increased anaphylaxis awareness, preparedness, and access to treatment." Revenues have increased from $200 million in 2007 to well over $1 billion today.
Minnesota Sen. Amy Klobuchar has called for a Senate hearing and Federal Trade Commission probe into Mylan's pricing practices, according to Fortune, and Hillary Clinton released a statement calling for Mylan to "immediately reduce the price of EpiPens." They do have one supporter, though: everyone's favorite Pharma Bro, former Turing Pharmaceuticals CEO and current Ponzi scheme suspect Martin Shkreli, who told CBS News, "I think important medicine should be expensive because they're valuable." Translation: "They should charge a lot because they can." CEO Heather Bresch announced on CNBC on Thursday that Mylan will offer discounts to select patients to defray costs. The $600 devices must be replaced annually.