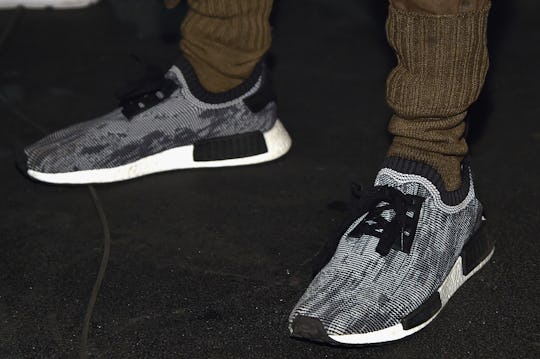 Dimitrios Kambouris/Getty Images Entertainment/Getty Images
How Much Do Baby Yeezys Cost? The Adorable Mini Sneakers Will Be Here Soon
Kim Kardashian revealed on the most recent episode of Keeping Up With the Kardashians that North and Saint won't be the only babies with their very own pairs of Adidas Yeezy 350 Boost sneakers, because infant sizes are finally being released on August 15. So how much do baby Yeezys cost? Probably more than a normal parent would be willing to spend on a pair of baby shoes, but they're really cute.
Rumors about the upcoming release of baby Yeezys started in March, when an image of what appeared to be catalog listings of Yeezy Boost 350 Infant shoes in both "Turtle Dove" and "Pirate Black" circled the Internet, according to Sneaker News. (Only muted neutrals for the fashionable babies.) The shoes appear to be priced at $120 a pair in that photo. Yes, for infant shoes. I know.
It's a lot of money for shoes, especially considering they're for kids who can hardly walk and who will likely outgrow them in a hot minute. Yes, that's an actual parenting unit of time measurement. As in, how long will it take for the kids to hear me opening this candy bar before they run into the room to get some? Less than a hot minute. How long until this kitchen I just cleaned is dirty again? Only one hot minute. And that's exactly how long your kids are likely to wear an expensive pair of baby shoes, so that's definitely something to consider if you're looking at a pair of baby Yeezys for your own little sneaker head. Here's North rocking her own pair in black.
And here's a look at the full line for the whole family.
The black sneakers are probably most practical for kids, like the ones North has on in the picture above. The tan ones are cute, but would get dirty pretty fast. Have you ever seen what playground sand can do to a kid's shoes? It's a nightmare. Those lighter ones would definitely have to be special occasion sneakers.
And I know that the whole point of owning a pair of Yeezys is about the style, but I'd like to make a suggestion for the next design to include some kind of slip on feature. Look at North's shoes in the picture! One of them looks untied. And, unfortunately, until a kid is old enough to learn how to tie their own shoes, sneakers with some kind of velcro or ones that can just be slipped on and off make life way easier. I get that Kanye is the designer, but if he's looking for a little extra mom input, he could nix the laces, especially at $120 a pop. Just sayin'.