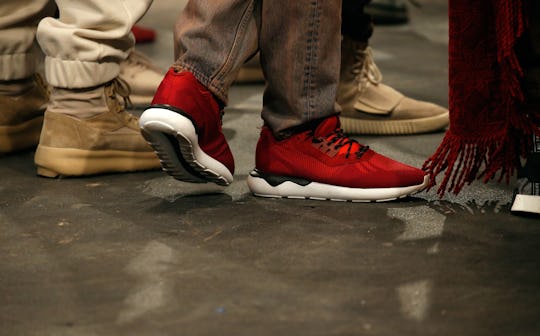 JP Yim/Getty Images Entertainment/Getty Images
How Much Do Baby Yeezys Cost? The Time Has Come
Parents and babies get ready: Kanye West's coveted Yeezy Boosts are now available in baby versions. The rapper and fashion designer will debut his knew Adidas sneaker, Yeezy Boost 350 Infant, on Saturday. You read that correctly – the once exclusive baby-version-Yeezys that were created for, and owned only by North and Saint West, will now be available to the public. So, how much do baby Yeezys cost? For some parents, the sneaker's release will make for an exciting Saturday activity.
In case you missed it, when West released his limited-edition black Yeezy Boost 350s last year in August, people were anxiously lined up outside an Adidas store in Chicago waiting to get their fresh pair. Not to mention, crowds of West fans and Yeezy Boost fans apparently swarmed Adidas stores in cities around the world on the day the 350s launched.
It would be interesting to see if there's a similar commotion surrounding the launch of the rapper's infant line. A bunch of babies with their parents in large crowded lines outside of a clothing store sounds like a sight to see. The baby Yeezys are priced at $130 according to the New York Daily News. But as the Daily News noted, that is of course, if the new baby sneakers don't sell out right away, as the rapper's Yeezy 750 Boost for $350 did, you know, within one minute.
But North and Saint are no longer the only babies to try out the new sneaker that's launching this weekend – Kim Kardashian and West have apparently started to gift the new baby Yeezys to family and friends.
Model Chrissy Teigen posted a Snapchat, holding a new pair of Yeezys for her daughter, Luna, with a caption that read: "Oh my god KIMMMMMMMM."
In an interview with Vanity Fair in September 2015, West explained that he wants his Yeezys 350 to be a classic shoe of the time period, similar to the popularity (and total nostalgia, let's be real) of the Air Force Ones:
I feel like the Air Force One or the shell toe speak to the ultimate version of what sneakers were 20 years ago. And I think there's something about the 350s, that feeling of what sneakers are today. And I just want to keep going in there and working on the shape and the last and the way the knit feels, the padding, the colors, to hopefully make that shoe where 20 years from now people say the 350 represented what shoes were in 2016.
Well now that West has introduced the 350s to an even younger generation, he may be on to something.