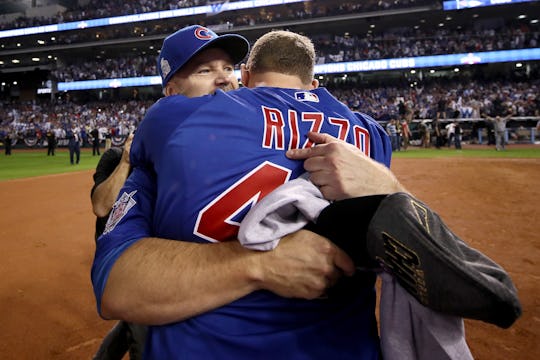 Ezra Shaw/Getty Images Sport/Getty Images
How Much Do Each Of The Chicago Cubs Players Get In World Series Winnings?
In some ways, the experience of winning the World Series after a drought lasting 108 years is wealth enough for the Chicago Cubs. But hey, it's always nice to supplement richness of experience with actual richness, and in that regard, the Cubs are doing pretty well too. So how much do each of the Chicago Cubs players get in World Series winnings? They're pocketing some serious money, in addition to their regular salaries.
On Tuesday, Major League Baseball announced that each Cubs player would be taking home a share of $368,871.59 in World Series winnings. And players weren't the only ones to profit. The team ultimately gave out 66 full shares, plus a few partial shares and cash awards, spreading the wealth to some people who weren't actually in uniform on the field but still played a vital role in getting the team to victory, like coaches and trainers. (Players who have spent the entire season on the team's roster get to vote on who else can join them in money town.) The pool of money that gets divided comes from the players' shares of postseason gate receipts. By the way, if you're feeling bad for the team the Cubs beat out in their Cinderella story victory, you can stop that right now. The Cleveland Indians awarded 60 full shares to players and team personnel, worth a more-than-respectable $261,804.65 each.
Altogether, the Cubs' share of the players' pool was $27,586,017.75,
The Cubs defeated long odds in 2016 to become World Series champions after over 100 years of disappointment, clinching the title in a nail-biter game that went into extra innings in the rain. In the process, they dispelled rumors of a curse, and made a whole bunch of fans who had gotten used to defeat believe that dreams really could come true.
Now, the Cubs are (deservedly) milking their victory. In addition to their nice big bonuses, plus the usual World Series perks like a shiny trophy, the Cubs are jacking their ticket prices way up. ChicagoBusiness.com reports that the Cubs powers-that-be are raising prices nearly 20 percent, which may very well bring the ticket prices at Wrigley Field up past prices for the New York Yankees and the Boston Red Sox, the two teams that normally have a stranglehold on the highest prices.
Hey, after 108 years, perhaps the Cubs deserve it. They might as well get the most out of their 2016, since it was an extraordinarily bad year for almost everyone else.