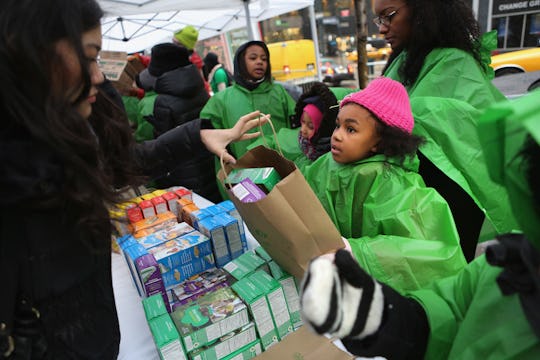 John Moore/Getty Images News/Getty Images
Here's What Girl Scouts Are *Really* Making Off Of All Those Cookie Sales
I don't know about you, but the presence of Girl Scout cookies has dotted the landscape of my life. Although I was never a Girl Scout myself, that hasn't stopped me from three decades of fierce commitment to the glories of the frozen Thin Mint, and I know I'm not alone. Girl Scout cookie season is a welcome sight for most red-blooded Americans. But also like most Americans, I actually know very little about the organization, and suddenly I have questions. Why is this the primary fundraiser? How much do Girl Scouts make off of cookies? And what do they do with the money? I did a little research to find out.
Girl Scout cookie sales began in 1917, just five years after the inception of the organization itself, the official website noted. Back then, the cookies were made by hand by the girls and their mothers in their very own home kitchens and sold in high school cafeterias, so obviously the fundraiser has taken on a life of its own in the past 100 years. But even if the endeavor has become slightly less personal, the outcome is exponentially more lucrative. On a given year, Girl Scout cookie sales rake in more than $700 million nationwide.
But how much of that total sum goes to the local troop who earned it? The surprising answer is... well, all of it. According to the official website, "100 percent of the net proceeds from Girl Scout Cookie sales is retained by the originating council and troop to power amazing experiences for girls and impactful girl-led community projects. Each council determines its own revenue structure depending on its cookie cost, local retail price, and the amount that is shared with participating troops."
Do individual Girl Scouts make any money off cookie sales? Yes and no, says veteran Girl Scout mom and leader Cam Bowman. "The girls typically set a goal of how many boxes they want to sell," she tells Romper, "based on the 'rewards' they are offered for selling. For example, my daughter would love to have the chance to make her own Converse tennis shoes. In order to get this chance, she'll need to sell 525 boxes of cookies."
In addition to their individual non-monetary rewards, Girl Scouts enjoy the fruits of their labors as a troop also. Former Girl Scout and camp counselor Ashley-Victoria Smith, founder of Descalzo Shows, explains, "The funds raised do not go to the individual girls, but to the troop to help cover the cost of their annual expenses." Remembering her own childhood experience, she tells Romper, "My troop wanted to go to the Smithsonian Museum in D.C. one year, and selling cookies was able to help us fund the entire trip with museum tours, bus, and hotel." Not bad for a little flour and sugar.
Of course, not every Girl Scout troop is taking field trips to the Smithsonian. "Like anything in life," says Bowman, "It's how the troop is managed and how much each girl contributes to the sale that will depend on how much Girl Scouts earn during cookie season." One might also safely assume that a troop's geographic region could have something to do with the revenue earned — with those in low-income or low-population parts of the country having opportunity to earn less — but the advent of online Girl Scout cookie sales could be changing that.
So the next time you buy a box of Tagalongs, be assured that the money you shelled out is being funneled right back into the future of your own local community. Because like every feminist (and Girl Scout) knows, the future is female, with a taste of chocolate and mint.
Check out Romper's new video series, Romper's Doula Diaries:
Watch full episodes of Romper's Doula Diaries on Facebook Watch.