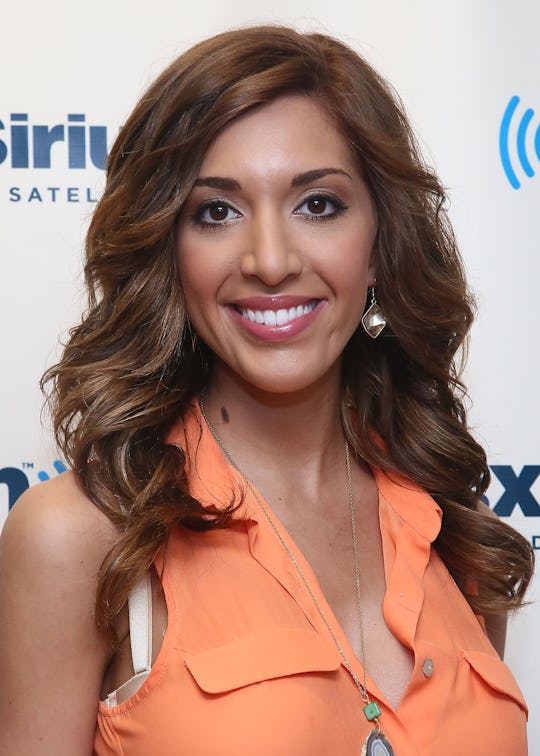 Astrid Stawiarz/Getty Images Entertainment/Getty Images
Here's How Much The 'Teen Mom' Stars Actually Got Paid
Whenever I've watchedTeen Mom, I've always wondered if the fact that it was a realty show totally skewed the "reality" part. I mean, most teens who wind up pregnant probably don't get followed around with cameras and get paid for the drama in their lives. So where's the conflict? They probably had enough money to support their child while they finished school — without also having to have a job on top of it all. That isn't to say motherhood at 16 or sooner is a walk in the park. Maybe I'm just cynical. (Or perhaps there's a little bit a jealousy going on, on my part.) But how much do Teen Mom stars make, anyway? Their reported salaries may surprise you.
Before we get into the details of how much these young moms bring in from their MTV reality show, let's take a look at the backstories of Maci Bookout, Farrah Abraham, Catelynn Lowell and Amber Portwood. Just to jog our memories a bit. The world was introduced to Maci Bookout on the very first episode of 16 and Pregnant in June 2009, reports People. Her rocky relationship with Ryan Edwards ended a couple of years after they welcomed their first child, Bentley in 2008. Bookout started dating motocross racer Taylor McKinney in 2012, and they welcomed a daughter, Jayde, in 2015.
Farrah Abraham was 17 when she first appeared on MTV's 16 and Pregnant, reports Us Weekly. The cheerleader from Iowa got pregnant by her ex-boyfriend, Derek Underwood, who was killed in a car accident a couple of months before their daughter was born, according to the publication. Since then, there has been plenty of controversy surrounding Abraham — from what she allows with her daughter, Sophia, to plastic surgery, to a controversial sex tape.
Catelynn Lowell's 16 and Pregnant storyline was unique in the sense that she was the only one who had planned on giving her baby up for adoption. After welcoming their daughter, Carly, in 2009, Lowell and the father of her child (and current husband,) Tyler Baltierra went through with the adoption process. Through the years, Baltierra and Lowell remained together — they even welcomed another daughter, Novalee, in 2015, according to People. Lowell has remained open about her ongoing mental health struggles through the years and recently checked herself into a rehab facility for suicidal thoughts.
Amber Portwood had her daughter, Leah, with her now ex Gary Shirley, welcomed their daughter, Leah, 2009, reports E! Online. Through the years, fans of 16 and Pregnant and Teen Mom watched Portwood struggle with her relationships, as well as anger issues and substance abuse, which contributed to her landing her in prison in 2012 for a felony drug charge, reports CNN. In November, Portwood announced she and her boyfriend, Andrew Glennon, are expecting their first child together.
Now, let's take a look at just how lucrative being a teen mom can be. Radar reports that Maci Bookout, Farrah Abraham, Amber Portwood and Catelynn Lowell all currently make $25,000 per episode, according to an anonymous source. (Not too shabby!) Ryan Edwards, Gary Shirley and Tyler Baltierra also reportedly make $25,000 per episode, the publication reports. "It was all thanks to Amber," a source told Radar. "She made sure Gary made as much as she did when they were together." Portwood's ex-fiance Matt Baier, whom she dated in 2014, made $5,000 to $10,000 per episode. And the cash flow doesn't stop there; reportedly, the cast receives $1,000 bonuses for specials and after shows, according to Radar.
As for some of the other Teen Mom stars? Adam Lind, the father of Chelsea Houska's baby, claimed she made $250,000 for season six, reports Radar. And he was reportedly making $200,000 per year before he quit the show. Brianna DeJesus made $20,000 for her first season, according to The Ashley's Reality Roundup. Houska, Jenelle Evans, Leah Messer and Kailyn Lowry make more than $300,000 per season, according to The Ashley.
Heck, if I would have known back in high school that it was possible to make this much money from a teen pregnancy, perhaps I would have skipped the whole college thing. (Or not.) But seriously! These days, all you need in your life is A) A whole lotta drama, B) A whole lotta money, C) An absurd amount of children/multiples/teen pregnancy, or D) An extreme religion, and poof! You've got your very own TLC series and are set for life. If anyone wants to watch a millennial mom wrangle three kids and three cats while working from home, give me a call!