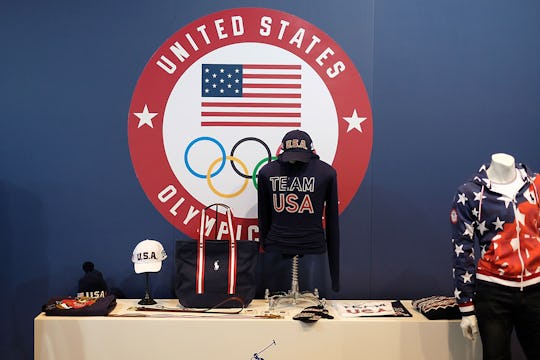 Joe Scarnici/Getty Images Sport/Getty Images
How Much Do Olympic Athletes Get Paid? Let's Just Say They Aren't In It For The Money
Competing in the Olympics comes with a lot of perks: international exposure, the opportunity to compete against the best of the best in your sport, and the chance to land a Michael Phelps-level sponsorship to name a few. Unfortunately, money isn't always a motivator, a just how much the Olympic athletes get paid might surprise you.
The International Olympic Committee pays its participants a grand total of zero dollars. That's right, athletes don't get paid to participate in the Olympics, despite the fact that the committee makes millions, according to Business Insider. However, that isn't to say that the athletes do it all for free; there are other ways to cash in on Olympic competition. The United States Olympic Committee awards metal bonuses of $25,000 for gold, $15,000 for silver, and $10,000 for bronze, according to Forbes. And Yahoo! reported that some other countries pay out even more. So there definitely are financial perks.
Beyond these awards, there is the possibility of sponsorship money. Michael Phelps has an estimated net worth of $50 million, according to The Guardian, and gymnast Simone Biles is well on her way to that status as well. But sponsorship money is only on the table for those very famous and successful athletes. While one or two big names do surface from each round of games, most athletes don't get there — even if they win.
American biathlete Lowell Bailey reportedly expected to gain sponsors following his win in Sochi, but he explained to USA Today that just winning a medal isn't always enough:
It's a tricky dilemma for an elite athlete at the Olympic level because it takes a lot of time and effort to get to the Olympic level and compete at this level. To then turn your focus from that to trying to build social media branding or brand recognition, I can say for sure it doesn't come naturally to me.
Aside from social media marketing, many companies expect successful athletes to have a little something more. Toyota currently sponsors 19 athletes, according to USA Today, but Dedra DeLilli, a member of the Olympic marketing team for Toyota Motor North America, explained what her department is looking for. She said, according to USA Today:
I would say that we primarily focus on athletes that have interesting, compelling stories to tell that very much align with our brand story. I think a large social media presence is icing on the cake, but it's not a core requirement for our athletes.
With approximately 15,000 athletes competing in 26 sports, with around 1,000 medals up for grabs, as CNN reported, the majority of Olympic athletes will see neither medal nor sponsorship. For example, the USA Track and Field Foundation reported that only half of U.S. track and field athletes ranked in the top 10 in the nation make more than $15,000 a year from the sport. Athletes in less popular sports, like fencing, may not make any money at all, according to CNN.
For that reason, many Olympic athletes have full and part-time jobs as well as GoFundMe pages, as E! News reported, adding that dozens of USA Olympic athletes have jobs that are not associated with their sport, or are pursuing higher education in preparation for a career after the Olympics. What's more, many top performing athletes reportedly live at or close to the poverty line, according to ESPN. The cost of all those coaching sessions and private lessons adds up. Without big sponsorships or endorsements, the cost of competing is high.
Check out Romper's new video series, Bearing The Motherload, where disagreeing parents from different sides of an issue sit down with a mediator and talk about how to support (and not judge) each other's parenting perspectives. New episodes air Mondays on Facebook.