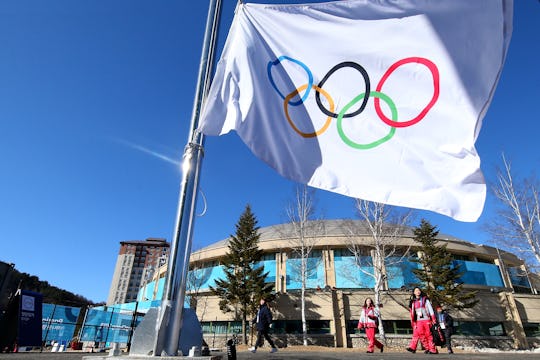 Alexander Hassenstein/Getty Images Sport/Getty Images
Here's How Much Tickets To The 2018 Winter Olympics Would Run You
Sure, you could watch the 2018 Winter Olympic Games on TV, but aren't sporting events so much more exciting when they're watched in real life? This year's Olympic Games are being held in Pyeongchang, South Korea starting Feb. 9. Athletes from about 90 countries and another few hundreds of thousands of fans are expected to attend the 17 days of 102 competitions across sports like ice hockey, cross country skiing, snowboarding, figure skating, bobsledding, and curling. Of course, getting there will cost you a pretty penny — but that's not even counting how much tickets to the 2018 Winter Olympics cost.
The average budget for attending the Olympics should include: $915, the average flight cost from the U.S. to Seoul's Incheon International Airport; $200, the price of a Pyeongchang Rail Pass from Seoul; $1,870, the average cost of a nearby hotel for a week; and $150 for meals, according to Money. Let's break that down: Despite the fact that Seoul is about 125 miles from the Olympic Stadium in Pyeongchang, Incheon International Airport is still the best bet to get to the Olympic Games on time. Once there, you can get yourself a seven-day pass to navigate the region, which will be helpful since the closer you get, the more expensive your hotel options become. At least meals won't be too pricey though; you can likely get a meal for about $6 at an inexpensive restaurant or a three-course meal at a mid-range restaurant for about $18, according to cost estimate site Numbeo.
The actual tickets for the Olympics, however, are the especially pricey part. Everyone is eligible since the process works on a first-come-first-serve basis, but they don't come cheap.
Fortunately for those on the hunt, there are a decent amount of tickets left, likely because Pyeongchang has struggled to sell tickets both domestically and internationally, according to TIME. As of Dec. 10, the Olympic committee had sold 586,400 tickets, which is just over half (55 percent) of its sales target. That's up from Nov. 1, when it sold just 31 percent, but it's still short. Military tension with North Korea, which sits just 60 miles north of Pyeongchang, is likely to have contributed to less-than-impressive ticket sales, since Americans are worried about their safety,TIME reported.
Safety is a legitimate concern and, according to Bloomberg, it's a 35,000-seat outdoor stadium, which means that there's a lot of space to fill. So tickets are indeed still readily available. Tickets for the Opening Ceremony start at just over $400, according to Money, but now a front-row seat is currently selling on Stubhub for as high as $6,185.75. The cheapest ticket currently on Stubhub is selling for $701.56 in section C.
Tickets to individual events and ticket packages are also available through the National Olympic Committees and authorized ticket resellers such as CoSport (though there appear to only be tickets available to the 2018 Para Olympics there) and Jet Set Sports (you must request the site's questionnaire to access ticket purchasing). The U.S. National Olympic Committee is also advertising ticket sales through CoSport on the Team USA website. If you're not based in the U.S., you can find out where to purchase tickets online from this list of different websites countries are using.
While scouring tickets at the actual events is indeed possible, Money reported, you can never really be sure about costs. And, of course, as the Olympics make it closer to the medal rounds, there's a chance you could score resale tickets cheaper.
You can follow this official ticketing guide for more information, as well.
Check out Romper's new video series, Romper's Doula Diaries:
Editor's note: After publication, we discovered this article did not meet our editorial standards. There were portions that did not correctly attribute another source. It has been updated to meet our standards.