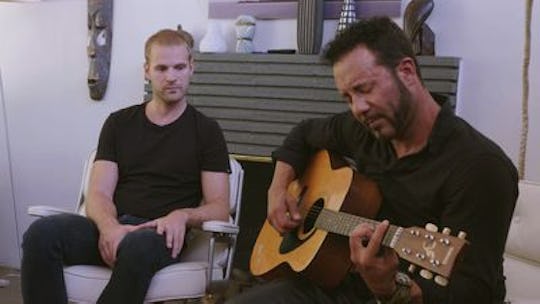 TLC
Here's How Much It Costs For An Appointment With 'The Healer' Charlie Goldsmith
Once you've seen TLC's new show, The Healer, you'll be totally sold on energy healing. It's all about this man who allegedly heals people's pain, infections, and even anxiety just by, well, being around them. So how much does an appointment with The Healer cost and how exactly do you sign up?
Well, that's kind of the problem. The Healer himself, Charlie Goldsmith, is currently the only guy out there who's been doing his energy healing so publicly, and with the new show and some media appearances, he's pretty booked up for the time being. On his website, there's a contact form, but a message from Goldsmith reads:
While there is no way I can help everyone who asks, there is a process in place to choose cases I will work on. They come from a variety of places including Facebook and Instagram messages. Unfortunately, many deserving messages will not be answered and I apologize for this.
He adds that you can join his mailing list to get updates on his availability, the show, and maybe even info about where to find other energy healers like Goldsmith as he finds them. So, that stinks if you're looking to get an appointment anytime soon, especially because as he becomes more well-known, it's likely that he'll just be even harder to book.
Then again, he really doesn't seem like he's in it for the money or fame, so there's a chance he could come across your case. Speaking of money or fame, if you are lucky enough to get to meet him, the appointment doesn't cost anything.
The 36-year-old had a show in Australia, but, according to People, he doesn't charge for his work. That's how much he reportedly believes in his practice and bringing some credibility to his field.
He told The Daily Telegraph, "When I was approached by TLC in America I decided to do it. It's a great compliment to what I do and also a wonderful chance to show people what's possible." Many people are totally skeptical of his healing powers — since it's difficult to prove that what he's doing is actually working, it can look like straight up magic. But there have been medical studies about his work and many doctors are behind him.
The largest study was conducted at New York University's Lutheran Hospital in 2015, where he treated about 50 patients suffering from chronic pain or other ailments, like UTIs. About 90 percent of them claimed they felt an improvement after his touch. His patients also swear by him. Friend and patient Miranda Kerr told The Daily Telegraph:
Since I met Charlie he's helped not only me but also my family and friends countless times. Amazingly, it doesn't seem to matter what it is medically. What he does really works. I can't say I understand how exactly but it's truly incredible.
Doctors feel the same way. Authors of the study at NYU couldn't prove why their patients felt better, but they noticed that they did or that their infections were cleared after a session with Goldsmith. That's gotta count for something, right? Francois Dufresne, M.D., the lead author of a 2013 study of Goldsmith's work told Elle, "The point is to get patients better, and if it happens by means that aren't fully understood, that's okay."
Once you watch him on his TLC show, you may or may not agree. But if he's not charging for his appointments, what's the harm in trying it out? When it comes to chronic pain and illness, if it works, it works. Why fight it?
Check out Romper's new video series, Romper's Doula Diaries:
Watch full episodes of Romper's Doula Diaries on Facebook Watch.