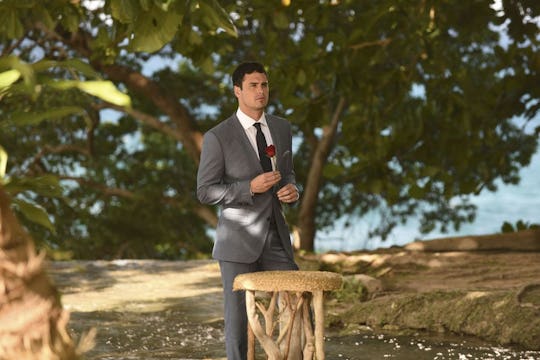 Matt Dunn/ABC
How Much Does Ben Higgins' Engagement Ring Cost? 'The Bachelor' Star Has A Big Budget
It is officially engagement season, at least on The Bachelor. After saying "I love you" to two women, the Bachelor finale pretty much forces Ben Higgins to make a decision. It won't be easy — after all, he was in love with two women just an episode ago — but Monday night is the deciding day. There's also another decision that will be happening on Monday — Ben has to decide on the engagement ring to give to his fiancée. The diamond will undoubtedly be big, sparkly, and beautiful, which might make you wonder how much Ben's Bachelor engagement ring cost.
Each year, The Bachelor star spends a little time with jewelry designer Neil Lane, the man who has provided many Bachelor engagement rings of the past. During this time, the ring that best encompasses the soon-to-be proposed to woman is chosen, and minds everywhere start wondering "How is he going to afford that?"
The Bachelor doesn't necessarily advertise how expensive the rings are that the men choose — that would be tacky, right? — but the ballpark figure always leaks online. This year, the ring Ben picks for his bride-to-be is estimated to cost $100,000 according to Us Weekly. According to the magazine, Ben's pick is a " 3-carat emerald-cut diamond set in platinum." Not bad, Ben. But how are you going to afford that?
Ben's big-budget ring isn't the only expensive ring on the franchise. According to Us Weekly, the engagement ring Chris Soules picked for Whitney Bischoff cost "about $92,000." Kaitlyn Bristowe's engagement ring cost between $70,000 and $75,000, according to Yahoo Style. Basically, this is not pocket change we're talking about.
Ben works in software sales, which is a promising career field, but how the hell is he affording a $100,000 ring? According to Bustle, The Bachelor franchise doesn't actually make the Bachelor himself pay for the ring. It's not confirmed if the show buys the ring or if Neil Lane is nice enough to loan it to the show, but either way, Ben's not footing the bill. So, don't worry about starting a GoFundMe for Ben's engagement ring fund. He's doing just fine.