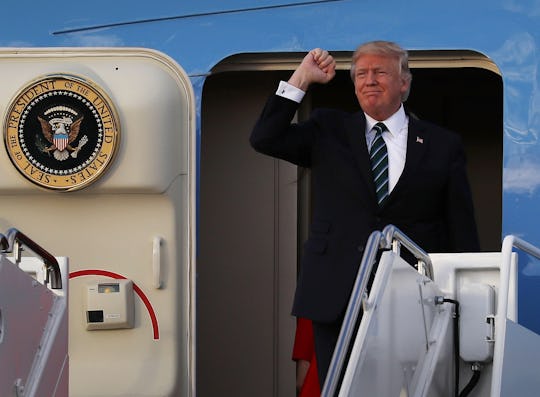 Joe Raedle/Getty Images News/Getty Images
How Much Does It Cost For The President To Travel?
President Donald Trump loves to travel — even while he remains incredibly busy in his first three months as President of the United States. The real estate mogul turned president can not be found in Washington D.C. on the weekends. Instead, during the past few weekends of his presidency, Trump has been flying to his country club in Mar-a-Lago, Florida — or what he refers to as "the winter White House." But traveling up and down the east coast each weekend is not free, even if you are the president. So exactly, how much does it cost for the president to travel?
It costs a lot of money for the president to travel to Florida every weekend — and that money isn't coming from the millionaire's pockets. Instead, taxpayers and the federal treasury are funding Trump's trips to his golf course and other Trump branded properties around the United States. Here's a breakdown of the numbers: Trump has spent his past six weekends at Trump-branded properties, according to Think Progress, including five trips to Mar-a-Lago. Each trip to Florida costs roughly $3.3 million, according to Quartz. This means that Trump has roughly spent $16.5 million on travel alone within his first two months of presidency. This is a stark contrast to former President Obama who spent an average of $12.1 million in travel each year, according to Think Progress.
If Trump were to continue to make trips to Mar-a-Lago for four out of every nine weekends, according to the Washington Post, it could cost a projected $526 million over the course of four years. This kind of money that it takes to allow Trump to play golf in Florida is absolutely ridiculous — especially after Trump's 2018 budget proposal suggested dire cuts to important programs.
So where does this money spent for Trump to travel come from? According to Politico, taxpayers pay the brunt of the travel costs — including paying for the cost of Air Force One, which costs more than $180,000 an hour to operate along with paying for security around his resort, according to CBS News. And according to TIME, residents in Palm Beach, Florida, where Mar-a-Lago is located, have to pay "additional costs to protect the president" — which includes an additional local police presence. Most people — especially this tax season — surely don't want their money going towards the president's weekend getaways.
Each time the president spends time away from the White House and spends more time in the "Winter White House" — the cost adds up. This is unfair for tax payers and those being affected by the federal budget cuts — while the president gets to relax on his golf course.