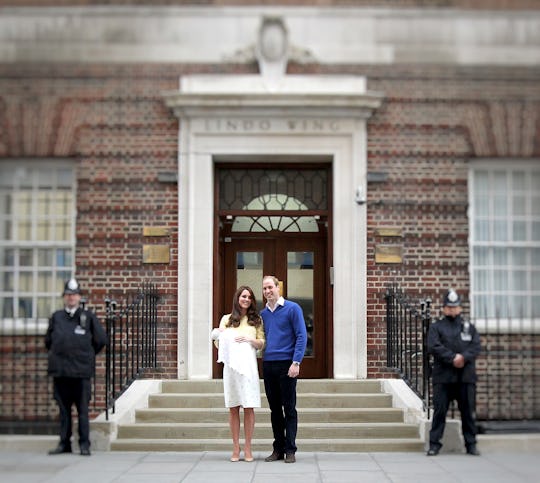 Chris Jackson/Getty Images Entertainment/Getty Images
This Is How Much It Actually Costs Kate Middleton To Give Birth
If you didn't have a royal obstetrician and a royal gynecologist on hand during your labor, with a team of 20 medical experts to support the effort, you probably didn't deliver the fifth heir in line to the British throne (but don't feel bad). But you might be surprised to see where your U.S. delivery tab falls in relation to that of a royal. How much does it cost Kate Middleton to give birth? Likely slightly less than it costs to bring a baby into the world in the U.S. health system, according to The Economist.
The United Kingdom has a universal healthcare in the form of the National Health Service, but the Duke and Duchess of Cambridge chose to deliver at a private birthing facility, the Lindo Ward at St. Mary's Hospital in Paddington, London, where the services are a little more rah-rah than your average British birthing center. In countries with a public healthcare system, it is common for those with the means to also purchase private health insurance, allowing them to avail themselves of private facilities, high-demand providers, and to avoid waiting times on elective surgery. The Daily Mail reported that a one-night stay at the Lindo Ward was priced at £5,900 pounds (US$8,320) as recently as July of last year, and includes a wine list, while a deluxe room and additional night's stay was going for £6,275 (US$8,724). The Economist notes that an average delivery in the U.S. costs $10,808.
And if you are wondering if the Duke and Duchess took advantage of the wine list... a royal insider says that they had a champagne toast after the birth of Prince Charlotte, according to People.
The Lindo Wing also offers a post-natal massage to women who have run the gauntlet of childbirth, and an afternoon tea service, because this is Britain and what better finger food than a warm scone for when you're cradling your baby?
One reason that even a lavish birth facility doesn't cost more than a run-of-the-mill U.S. birth is the involvement of midwives, which are an integral part of the NHS. Midwives deliver half of all British babies, according to ProPublica, and are associated with lower rates of Caesarian birth and better neonatal outcomes. Their common use for low-risk births leaves obstetric providers to cover high-risk births, reducing costs overall. It has been reported that midwives delivered Kate Middleton's first two children.
So how does the out-of-pocket cost compare? If the Duchess had delivered at a public facility, it would have been virtually nothing, but even an $8,000 price tag on care at the Lindo Ward isn't vastly different to the typical gap in coverage by U.S. insurance companies: around $3,400, per a study by Childbirth Connection cited by Slate. And that's before you end up in a hospital that is out of network, and assuming that you have health insurance, which 3.2 million Americans do not, per New York Magazine.
It's important to note also that Kate Middleton is going to be spared one significant chunk of money: since she delivered at the Lindo Wing previously, she will be entitled to 10 percent off her final bill, as a treasured repeat customer, per Time.
One other big difference? The average U.S. mom doesn't hire a stylist by the hour to help with their postpartum recovery. Middleton's hairdresser Amanda Tucker reportedly charges £3,000 a day, per E! Online, but then again, if you had to face the whole world, you'd probably shell out for a blowout, too.
Check out Romper's new video series, Bearing The Motherload, where disagreeing parents from different sides of an issue sit down with a mediator and talk about how to support (and not judge) each other's parenting perspectives. New episodes air Mondays on Facebook.