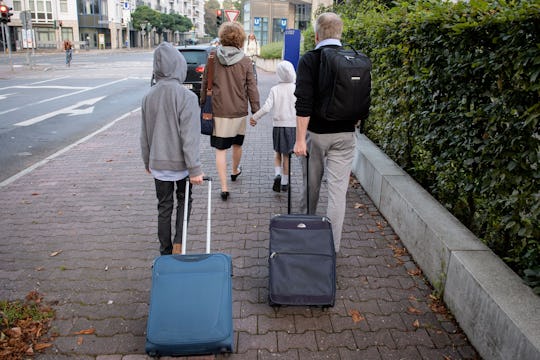 THOMAS LOHNES/AFP/Getty Images
Evacuation Costs Prevent Too Many People From Fleeing Hurricanes
With Hurricane Irma making its way to Florida, some residents have been told to get out of the storm's path and evacuate the area. Parts of Miami, in particular, are under evacuation orders. The hurricane is taking aim at the state's east coast, and a lot of people from Miami, and the surrounding area, as well as the Florida Keys are headed north to try to dodge it. But not everyone has the ability to evacuate — because it's not exactly a wallet-friendly option. The total costs to evacuate before Hurricane Irma hits have not yet been calculated, but based on past, similar weather events, getting out of the path of a hurricane isn't cheap.
The massive amount of people trying to get out of South Florida could turn into one of the largest evacuations in United States history, according to CNN and its senior meteorologist Dave Hennen. The Miami-Dade, Broward, and Palm Beach counties are home to about 6 million residents combined, according to The Miami Herald. Some of them have the option and the means to leave the area before Irma can wreak havoc on the region.
Getting data on the costs of evacuation can be tricky. Costs can change according to the distance necessary to travel, for starters. However, a study from 2003 that looked at data from North Carolina residents who dealt with Hurricane Bonnie in 1998 estimated that the combined evacuation costs for people in coastal counties can range from $1 million to $50 million. It all depends on the intensity of the storm and emergency management policy, according to TIME.
That's not the cost incurred for every single person evacuating, of course, but it's an eye-opening number nonetheless. For each individual person looking to evacuate, there are the costs of either a plane or bus ticket, if you don't have access to a car, or gasoline if you do. And if someone doesn't have family or friends within driving distance to take refuge with, hotel costs have to be considered, TIME pointed out.
That all makes for a costly trip that people haven't accounted for in their budgets, and, for families living paycheck to paycheck, that's terrifying. It's never completely clear where a hurricane will hit until right before it happens, so financially preparing to evacuate can be tough.
When The Points Guy website did a little research, the cheapest ticket for a flight from Miami to Charlotte on Wednesday was $445, and that was a) only one-way, and b) there was only one seat left. Airlines are reportedly trying to add flights to the affected areas, and there might be train or bus options, but none of the options are cheap for anyone on a fixed budget.
Plus, as aforementioned, once you add the costs of lodging, evacuating can seem even more impossible. And, for families with multiple kids, staying in a hotel for a few days could knock out a month of livings expenses. These costs also don't take into account the financial burden of people taking off work to evacuate and stay out of the area until it's safe to return. Those financial concerns could prevent people who don't have the option to miss work — which could endanger their ability to pay rent or feed their kids — from realistically being able to leave.
The choice to evacuate is just not as simple as deciding whether you want to brave the storm or not. For many, the cost to evacuate is just too prohibitive. Keep that in mind as Hurricane Irma bears down on Florida, where many simply don't have the means to get out of its way.