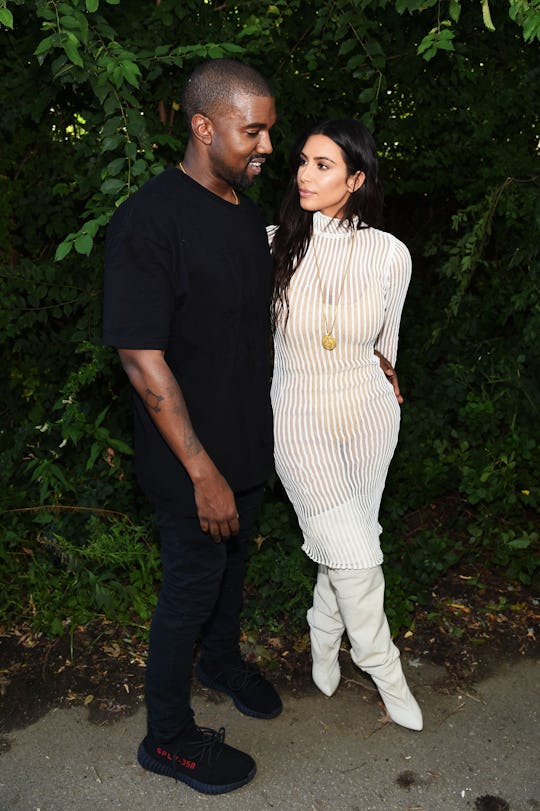 Jamie McCarthy/Getty Images Entertainment/Getty Images
Kim Kardashian & Kanye West's Kid's Line Is Here
Kim Kardashian and Kanye West are icons. Between their influence on social media and trends (Yeezy Boosts, anybody?), the married couple have carved themselves a place in pop culture and fashion history that will last forever. And now, together, they're making their mark in children's fashion with their own kid's clothing line. Fans who are also parents will probably want to get their hands on a few pieces, but might also need to know how much Kardashian and West's kid's clothing line costs, if they're hesitant to break the bank.
Kardashian and West's children's line, The Kid's Supply, was finally released on Friday, after a long wait. For months, Kardashian had been teasing the line, which is inspired by her hometown of Calabasas, California, on her Snapchat. Just like Kylie Cosmetics (created by Kardashian's younger sister, Kylie Jenner), or Yeezy Boost sneakers, designed by West, The Kid's Supply appears to be Kardashian's own pet project, and is another way for people to get their hands on another gem from the famous family.
While some of the items are a little out of the average parent's budget — especially since growing children can only wear their clothes for so long — there are some affordable pieces on the website that people might want to purchase instead.
The 16 item collection ranges in price from $20 to $250. The more pricey items include the coveted "Calabasas" jacket and lace jumpsuits. The chokers and hats, however — embroidered with a hand drawn "kids" logo from West himself — will jazz up an outfit and make your child the trendiest on the playground, and they (thankfully) only run around $22 and $35, respectively. A classic logo t-shirt is $28 dollars and makes the perfect gift for your Kardashian-obsessed friend. The sizes range from a kid's size 2 to a kid's 7/8.
But with that said, the nicer items in the line are definitely more expensive. A camouflage hoodie and jogger set will cost parents $125 for sweat pants and a jacket that can easily be found anywhere else. A 100 percent silk slip dress, which seems a little fancy for your child's playground escapades, costs $125. And the most expensive item in the line, the aforementioned silk bomber jacket, runs $240. Kardashian and West's 4-year-old daughter North is already a fan of the bomber jacket, as evidenced by Kardashian's Instagram.
The Kid's Supply has plenty of items to fit any Kardashian obsessed fan's budget, whether you're willing to spend big or have a strict budget. Whichever category you fall under, there's likely something for everyone.