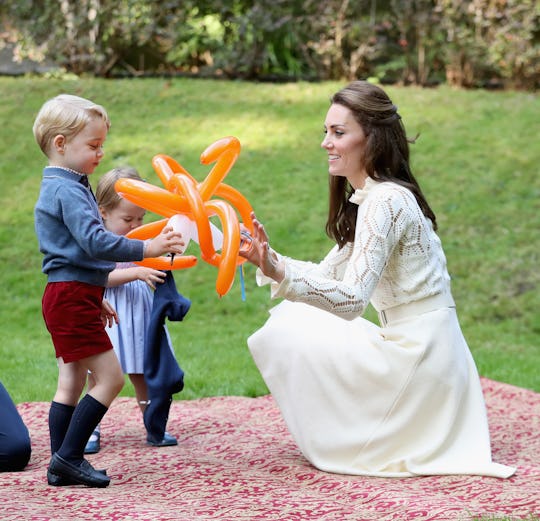 Chris Jackson/Getty Images Entertainment/Getty Images
Here's Prince George's Pricey Preschool Uniform
The rate at which young children outgrow their practically-still-brand-new clothes can be a frustrating reality for parents' wallets, but for most of us, there's also zero shame in dressing our kids in hand-me-downs, or buying second hand. It's a different story, though, for the Duke and Duchess of Cambridge, who will not only be expected to shell out big bucks for private school tuition when their son, Prince George, begins preschool in September, but to dress him impeccably in the school's fancy uniform too (back-to-school sale shopping at Target just won't cut it when your kid is third in line for the throne, I guess). How much does Prince George's preschool uniform cost? Like his father before him, Prince George will be attending a posh London private school, and according to Us Weekly, the basic uniform alone will run his parents upwards of $465.
In a statement released Friday, Kensington Palace confirmed that Prince George will be attending prep school Thomas's Battersea this fall, after he turns 4 years old in July. The school's headmaster also released a statement to welcome the young royal, according to People, and shared how "honored and delighted" he is that the Duke and Duchess have chosen to send him there. Chances are he was pretty surprised, too: before Kensington Palace confirmed the news, it was assumed that George would be attending Wetherby, the same super-fancy Notting Hill preschool that Prince Charles and Princess Diana chose for their two sons.
According to The Daily Mail, tuition at Thomas's Battersea will cost the royal couple an eye-watering £6,865 each term (approximately $8,576), so it perhaps isn't quite so surprising to learn that their basic school uniform is also pricey. For boys George's age, the required winter uniform at Thomas's Battersea includes a $45 navy jacket, a $32 navy v-neck sweater and $13 red turtleneck, worn with $30 navy Bermuda shorts and $18 knee-high socks (with optional gloves, hat, and scarf, naturally). In the summertime, George can swap out his sweater for a short-sleeved light blue shirt ($30 for two) and ankle socks worn with a white sun hat. But that's not all. For gym class, he'll need a navy Thomas's tracksuit, a white t-shirt, and a "house-colored" t-shirt (presumably once the Thomas's Sorting Hat decides which he belongs to?). He'll also need a $40 red smock for art class, a ballet uniform from The Royal Academy of Dance, and, last but not least, a Thomas's rucksack to carry it all in.
Thomas's Battersea is a co-ed private day school located about 20 minutes from Kensington Palace, where the royals will be living after moving from their current rural estate, Anmer Hall, in Norfolk this summer, according to The Daily Mail. But even though George's educational future will no doubt be one in which he'll be surrounded by wealth and privilege, the Cambridges seem to at least be trying to keep him connected to the masses.
Thomas's, for one, is a family-run school, and its co-ed Battersea branch is generally considered to be a less posh and upper class choice than the type of elite Kensington-area private schools traditionally preferred by royals (including Prince William's childhood school, Wetherby). By sending him there, it's possible that they might also choose to skip sending him to a super-exclusive boys boarding school like Eton College when he's older. And given that the the future heir actually started his educational career not at a fancy London nursery, but at a village Montessori? Well, the Duke and Duchess certainly seem to be doing many things differently as parents than previous royal generations.
Of course, perhaps the most important question of all of this is, are we going to get to see Prince George dressed up in said uniform and posing for cameras on his first day of school, just like his dad and uncle did when they were young? We'll have to wait and see (the Duke and Duchess seem to prefer releasing private photos to the press), but it's probably safe to assume that, no matter what, Prince George is going to be one super cute, uniform-clad preschooler.