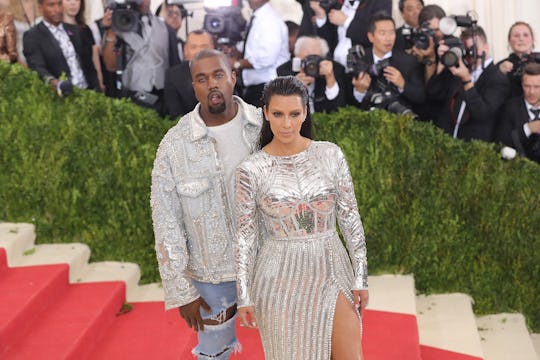 Neilson Barnard/Getty Images Entertainment/Getty Images
How Much Does Surrogacy Cost?
On Wednesday morning, People reported that a source confirmed that Kim Kardashian West and Kanye West had hired a surrogate to carry their third child. The reports have been unconfirmed since the news broke, but that hasn't stopped people from doing a few things: first, trying to figure out who the surrogate is; second, trying to say that Kim Kardashian is "stealing" Beyoncé's thunder; and, third, wonder just how much surrogacy costs, because carrying a child for Kardashian and West doesn't seem like an easy or low-stress job. Kardashian's representative didn't immediately respond to Romper's request for comment regarding whether the couple is using a surrogate or how much the surrogate is being paid.
Kardashian has long said that she wants a third child, but that her first two pregnancies were so difficult that she's not sure she can physically or emotionally handle another pregnancy, according to People. On an episode of Keeping Up With The Kardashians Kim told Kourtney and Khloé that she wants another baby, but after suffering both preeclampsia and placenta accreta during her pregnancy with North, a third pregnancy for Kim would be life-threatening. Preeclampsia is high blood pressure that can result in swelling of the hands and feet or death for mother or baby, and placenta accreta is where the placenta grows into the lining of uterus and cannot come out during birth. Kardashian said of her experience with placenta accreta during her delivery with North, according to her blog:
My doctor had to stick his entire arm in me and detach the placenta with his hand, scraping it away from my uterus with his fingernails. How disgusting and painful!!! My mom was crying; she had never seen anything like this before. My delivery was fairly easy, but then going through that—it was the most painful experience of my life! They gave me a second epidural but we were racing against time, so I just had to deal.
After the delivery, Kardashian wrote that she still had placenta inside of her, which had to be removed surgically. During the surgery, doctors also removed scar tissue from the placenta accreta. As a result, she had an incredibly difficult time getting pregnant with Saint, and doctors were then worried that she would develop the same conditions with Saint, which could've resulted in her needing a hysterectomy after Saint's birth.
It's no surprise after such difficult pregnancies that Kardashian is hesitant to become pregnant again even though she wants more children. She has even brought up her desire to use surrogacy during Keeping Up With The Kardashians. Both Kris Jenner and Kourtney Kardashian even offered to carry her next child, according to E! Online.
So now maybe Kardashian has finally followed through on the idea, but it won't be cheap. According to West Coast Surrogacy, surrogacy costs differ between states, but the average is anywhere from $90,000 to $130,000. Costs could be even higher, according to the organization, if you're in a state with high demand for surrogacy, like California.
But, I've got to wonder, if you were carrying Kardashian and West's baby, would you really only charge the "average" amount? According to TMZ's math and unconfirmed reports, the couple has paid a deposit of $68,850. Then, they will pay the surrogate 10 monthly payments of $4,500. That total comes to $113,850. If the pregnancy results in multiples, the surrogate gets $5,000 per additional child, and if the surrogate loses reproductive organs in the process, they receive $4,000.
That's a lot of money — don't get me wrong — but it still doesn't seem like the kind of amount you'd charge to carry a future Kardashian West.